Le Anh Xuan was born in 1976 in a poor farming in the northern province of Thanh Hoa. He became a student at Nha Trang Fisheries University in Khanh Hoa Province on the central coast in 1995. Graduating from the university in 1999, he knocked at many doors for a job.
The boss of a shrimp-breeding farm in Nha Trang City recruited him as a worker thanks to his Grade A graduation. The new worker gave his boss lots of initiatives to increase productivity. However, a research dream inside the fisheries engineer drove him to the Mekong Delta, where he thought was a place for his dream to come true.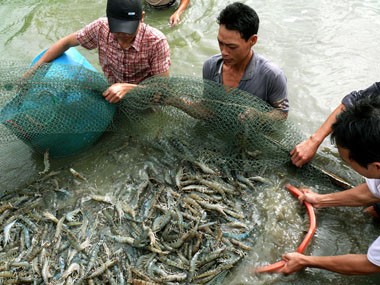 (File photo) Farmers in the Mekong province of Ca Mau harvest shrimps (Photo: Bao Anh Dat Mui newspaper)
Xuan got a job with Tien Giang Province's Fisheries Company in July 2000. He lived in a shrimp farm with farmers to get more experience. The period built up in the 24-year-old a desire to work out some medicine against shrimp diseases. In 2002, he left Tien Giang for the Mekong province of Bac Lieu, one of Vietnam's leading shrimp farming areas, and got a marketing job at Saigon Biotechnology Company.
At the company, he learned about experiences in shrimp farming. After a while, he left the company to set up his own business – Truc Anh Production and Trading Limited Company. He believed that what he learned after four years in the breeding and marketing could bring him success.
He started to study popular shrimp diseases faced by Bac Lieu farmers, often caused by viruses. He is of the view that organic farming is key to the problem, saying no to antibiotics and using only biological products. Based on what he learned from the university and working, Xuan started research on a biological product to replace trifluralin in aquaculture.
Between 2004 and 2006, he applied his research results in his fisheries ponds. Xuan started to apply them on a larger scale, for many ponds, in 2007. A finding was the use of Ta-pondpro biological product helped to minimize contamination in ponds and increased the quantity of useful viruses such as bacillus subtillis and lactobacillus – ones repressing disease-causing viruses. He also founded that the biological product was more useful when some other natural methods used to make ponds clean.
Between 2007 and 2008, he finished an organic shrimp farming process using biological products. He has shared the method and knowledge with thousands of farming households in Mekong provinces such as Bac Lieu, Ca Mau, Tra Vinh, Ben Tre, as well as with higher education students and visitors. Shrimp farmers from the central provinces of Binh Dinh and Phu Yen have also met him for advise. Many of the farmers whom he shared knowledge with have escaped poverty after clearing all debts.
"I have four hectares of shrimp and have been using the fisheries engineer's biological products for 8 years. My shrimps develop well with fast growth and no diseases. My net profit after deducting all costs is almost VND1 billion [nearly US$50,000] a year," says Pham Van Chu, a shrimp farmer in Bac Lieu.
Le Van Dung in Ca Mau says, "I have one hectare. I use Xuan's biological products and find that they're very useful in preventing diseases and much cheaper than using antibiotics previously. My annual profit is more than VND1 billion."
The 36-year-old fisheries engineer has received various awards from ministries, State agencies and organizations for his performance. They included awards from the Ministry of Science and Technology, Ministry of Agriculture and Rural Development, and former Ministry of Fisheries.
The engineer says he and his associates are making research on new biological products to help farmers deal with increasing seawater intrusion due to climate change.