Nguyen Thi Quang walks through the Hai Van Pass tunnel, across woods, and over slopes to Van, a small village at the foot of the pass, every Tuesday and Thursday, bringing the light of knowledge to poor children.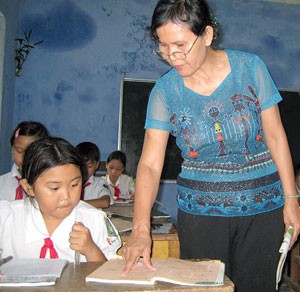 Retired teacher Nguyen Thi Quang teaches English to poor chidren in Van village in Da Nang.
Van, in Lien Chieu District, houses leprosy patients who receive treatment there. It used to be called "Cui" (Leprosy) village.
Ms. Quang, 56, a retired teacher living in Hoa Hiep Nam ward, teaches children from first to fifth grades something they have never had the opportunity to learn before: English.
10-km walk
Packing a pair of fabric shoes, medicines, rice, salt, water and some other items in an old backpack, Ms. Quang asks me to join her for the trip to Van.
From the foot of the pass, we walk 300 meters along the rail track to Tunnel 1. Turning on a flashlight, she steps into the dark tunnel.
Snakes are another worry here. "One day, while I was walking, I was petrified with fear to see a snake lying on the road."
  
Leaving the tunnel, we continued across a wooded area and climb several slopes. After a long while, we saw the village in the distance.
As soon as we arrived in Van, it began to rain heavily. We clearly heard the sound of waves crashing on the shore.
The small village lies close to the shore, like an oasis nestled in the vast green woods.
'Two-in-one' class
Ms. Quang's English class began in the afternoon. When I stepped into the classroom, all the children stood up, crossed their arms and said a greeting in English.
All 26 children gazed at the blackboard, listening intently to her and taking notes.
It should be called a special class since there were both third-grade and fifth-grade students, sitting back-to-back. There were two blackboards, one at either end of the room.   
While the third-graders were doing exercises, the fifth-graders listened to the teacher, and vice versa.
Ms. Quang encourages students to be active and self-motivated in their studying. She also assigns some senior graders to tutor juniors.
'I felt pity for them'
"How long have you been learning English?" I asked fifth-grader Tran Thi Kim Anh, 11. "I have been learning since Ms. Quang began the class," Anh replied, adding she was very fond of learning English.
Asked how she thinks she can benefit from learning the language, Anh replied: "I can communicate with foreigners when they come here to visit leprosy patients. And when entering high school, we can keep up with other students."
"Unlike in other places, the village primary school does not teach students English," Ms. Quang explained. "So it is impossible for them to catch up with their English lessons once they join high school."
Ms. Quang, who retired from Hai Van Junior High School in Da Nang, walks 10 km twice a week just to make sure these poor children are not disadvantaged in this manner.
"I am rather old and the walk is hard. But whenever I recall the eagerness for learning in the poor children's eyes and their joy when I come, I am filled with pity for them and decide to continue," she said.