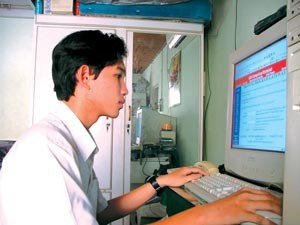 Nguyen Trong Nghia
Nguyen Trong Nghia, a ninth-grader in Ho Chi Minh City, is a hard-working high-school student with a passion for programming languages. He has already devised some hands-on softwares. Among the fruits of his labor is the top prize in the 12th "National Amateur Informatics Contest".
Nghia, who studies at Hong Bang Junior High School in Ho Chi Minh City, has been interested in programming since his sixth grade. Aside from studying at school, he always spends time every day doing programming work and improving his informatics knowledge.
"Before each contest for gifted students, my teacher usually gives me homework like finding the optimal algorithm or writing the shortest runtime program. Sometimes the problems are so hard that I have to stay up late to solve them, but I couldn't bear the thought of giving them up," says Nghia.
To encourage the students, his teacher promised to give bonus marks to anyone whose program ran as fast as his. Nghia has done better than expected and managed to write faster programs on two occasions.
The talented boy also has a passion for producing hands-on programs, like Vietnamese font-creating software and for MP3 players.
This summer he will move from Hong Bang Junior High School to become a tenth-grader at Le Hong Phong High School for Gifted Students.