Richard Fuller, an American man teaching English in Ho Chi Minh City, is so nutty on Trinh Cong Son music that he loves to sing Trinh's songs. In addition, he has translated some of them into English. It might be Trinh music that made him want to stay in Viet Nam forever.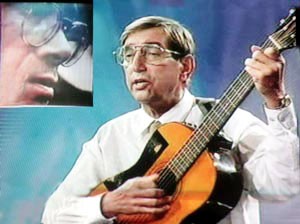 Richard Fuller sings Tring Cong Son's songs
Richard Fuller said he first knew about Trinh's songs from his friends who had come back from the Viet Nam War. The song Diem Xua with a rather strange and impressive melody and Bien Nho with an unbelievable peacefulness impressed him much.

He said "I shared Trinh Cong Son's view on his country at that time."

"Trinh music charmed me not only with its melody but also its lyrics, which I had not seen in any other kind of music."
"I had to learn the Vietnamese language with a purpose to sing his songs better and translate my favorite songs into English."

"At that time, telephone communication from the U.S. to Viet Nam was not easy and rather expensive, but I could talk with composer Trinh Cong Son and asked for his permission to translate his songs into English with my limited language ability," added Fuller.

Mr Trinh Cong Son told Fuller that, "Translate them as you feel and understand them."

Fuller met musician Trinh Cong Son once in Da Lat and they had an interesting night talking together. After that, Mr Trinh Cong Son invited Fuller to sing in his musical program at Nhac Si Cafe on Nguyen Van Chiem Street in HCMC. Fuller's performance surprised many audiences.
Recently, Richard Fuller opened a musical performance on VTV channel with Diem Xua and ended the program with Bien Nho. He sang the songs very beautifully and soulfully, accompanied by The Vinh playing the guitar and the trumpet.

Fuller was moved and said, "I sing and think that Son will see all memories of him still live in our hearts forever…"