Though having a stable number of customers in France and some other countries in the region, Thierry Vincienne decided to renew himself with thoughts of Asia.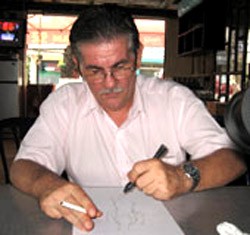 Thieery creates a design

Thierry has been the chief designer for Nem New fashion brand, which is broadcast on television every night, since 2002.
A dozen years have passed since he first came here but he still keeps in feeling of the country. He thinks of this Asian country as his second home because it is remote but not strange.
The French designer has known and loved Viet Nam since his elementary school days. More importantly, he wants to apply his understanding of fashion in Viet Nam.
Someone once told him that his designs showed a distinctly European influence but Thierry does not agree at all. He describes his creativity as a combination of western and eastern styles.
Inspiration comes to him from, to give a few examples, the ao yem (a kind of Vietnamese undergarment), the hanbok of Korea and the Japanese kimono. Mixing is his style.
He is planning to set up a fashion company named Lady France to make affordably priced western clothes of western standards for Asian in general and Vietnamese women in particular.
To Thierry, the ao dai is the most beautiful outfit of them all. "It has enchanted me for years, yet I do not want to design one myself even though Vietnamese people have sometimes asked me to make one," the Frenchman says.
"The ao dai belongs to the Vietnamese tradition so nobody can change it. Designers can only change the materials and colors."