During the Asia-Pacific Economic Cooperation summit in Ha Noi in November, 500 young volunteers from various universities will become roving ambassadors for their country by catering to the needs of the visiting politicians and journalists. For the volunteers, it will be their first real shot at practicing serious diplomacy.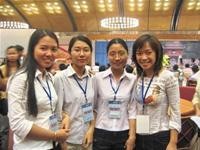 Four volunteers from the Institute for International Relations pose for a picture after a rehearsal for the APEC gala dinner on Oct 26 (Photo: Tuoi Tre)

What is the food called "hana" like? What are the salient features of the Jakarta Post and Media Indonesia? Exactly what time will Indonesian President Susilo Bambang Yudhoyono will arrive in Viet Nam?

These are the sort of things that Le Viet Phuong, a student at the Institute for International Relations, is busy discovering these days.

"I was assigned to be a liaison officer for Indonesia's press delegation, so I have to gather loads of information about their country," Phuong said.

"It would be a great shame to accompany them yet know little about them, so I'm preparing myself thoroughly, even brushing up on my knowledge of Ha Noi and Viet Nam."

Phuong is not an exception; each and every one of the volunteers is making an all-out effort to be ready for the big day.

As a liaison officer for the head of the Australian delegation, Nguyen Minh Tram is the envy of her friends.

She too attends the Institute for International Relations and has a good command of English and a decent knowledge of Australian culture, history and customs.

During rehearsal for the gala dinner at the National Conference Center on October 26, she looked charming in her ao dai even with her diplomatic airs.

She said confidently: "At IIR, we studied various cultures in the world and took part in some big events such as the Asia-Europe Meeting, the Southeast Asian Games and the first Senior Officials Meeting. So I think I am ready for this event."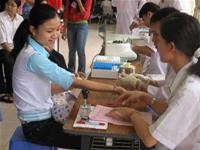 A volunteer donates her blood in a campaign held by the Ha Noi Voluntary Youth Society on Oct. 29 (Photo: Tuoi Tre)
The rehearsal concluded successfully for all 100 or so of the young volunteers. Said one of them: "I feel more mature. This event is very meaningful to me. I have searched on the Internet and learned from my teachers and some diplomats as well. It is really a great opportunity for a would-be diplomat like me".

These young and dynamic volunteers, who represent the spirit of Vietnamese youth, want to promote Viet Nam among the international community.

The leader of the volunteers assigned to the APEC CEO Summit is Tran Nguyen Ngoc Tu, who told reporters: "We have learned much about APEC and the trade partners that the delegations will be meeting on this occasion. We now know how best to serve them. It sure is a great chance to promote Viet Nam".

"The reception for the CEO Summit guests in Van Mieu-Quoc Tu Giam (Viet Nam's first university) should be really impressive. Our volunteers will introduce many national features such as the handicraft villages and traditional forms of art. They will also give a brief presentation on Van Mieu-Quoc Tu Giam and some of its famous scholars.

"The opportunity is too wonderful to pass up", Tu exclaimed.