Brocade-weaving, once a vibrant traditional craft amongst the ethnic minority groups of the Central Highland Regions of Vietnam, is now becoming extinct as local weavers are weaning away from it due to lack of demand.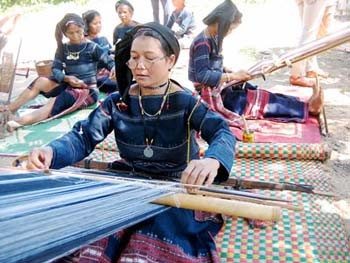 Woman working on brocade-weaving looms in a Central Highland Province (Photo: SGGP)
Ro Lan Pel, a brocade weaver and also chairwoman of the brocade- weaving club in Bien Ho Commune in Pleiku town of Gia Lai Province, lives in a quiet house hidden behind coffee fields and today faces a quiescency as she silently arranges her looms and colorful reels of thread. On her empty shelves lie singular pieces of a handbag and a scarf.
She says that there have been no orders for the last several months and thus she now rarely touches the loom except to make a few bags and scarves to nurture her creativity.
Like other Jrai ethnic girls, Ro Lan Pel weaved her own handbags and dresses, for herself and other family members since she was 10 years old. Her skills improved by the day. Now she brings her products to markets and souvenir shops for sale, to earn her daily bread. It takes her four days to weave a dress which sells from VND150, 000 to VND 1,000,000. However, only few buy these products today.
She also takes orders from other ethnic minority groups, who buy during festivals, though these are rare and scattered. As a result, she has switched to breeding pigs and chickens and cultivating coffee to make ends meet.
Other women in Gia Lai Province are in the same plight and are unable to live anymore on brocade-weaving income. 
Traditional brocade weaving in Kon Tum Province has also more or less come to a stand still. Its three brocade cooperatives with about 200 women members are facing tough times with hardly any sales at all.
Y Linh, a Ba Na ethnic woman in Thong Nhat Ward of Kon Tum town laments, "I cannot live on weaving alone and the reason I continue to attend the cooperative is for keeping the ancient traditional craft of brocade-weaving alive in the community."
Today many other cooperatives in Dak Lak Province face a gloomy future. The establishment in Dam Ye of Buon Ma Thuot town shut down few years ago and some others in To Bong and Ea Kao are struggling. Each cooperative member only weaves 1-2 scarves or handbag a month.
Brocade-weaving survived for a long time within the Kho and Chau Ma ethnic groups of Lam Dong Province. However, sounds of looms have long since faded in villages of Lac Duong District.
Difficult to promote weaving
The Central Highland Provinces have failed to implement effective measures to preserve, develop and promote brocade-weaving.
The Department of Industry and Trade in Gia Lai Province has opened many training courses in brocade-weaving, aimed at preserving a traditional craft. They have also worked with many skilled brocade weavers for training local weavers. However, once the training courses are over, most of the women return to their fields.
The trade promotion division of the department has held exhibitions of brocade items in both domestic and international fairs, but this has done little to promote the products.
One member of the To Bong cooperative in Dak Lak Province said that they usually introduce their products in fairs and tourist festivals, and quite often tourists pay a high price for a brocade dress or a loin-cloth or a blanket. However, these opportunities are but few.