A 68-year-old woman, who owns a beef noodle shop in Ho Chi Minh City, has turned her renowned "Bun Bo Hue" (Hue-style Beef Noodle Soup) into a billionaire's fortune.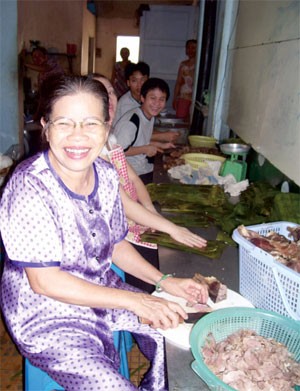 Mrs. Ngoc Dung

Ngoc Dung beef noodle shop is located in District 9, 20 kilometers from the city's center. It is not very large, but always crowded. Customers are from all around, even some tourists.

Mrs. Ngoc Dung, the owner of the shop, is proud that her shop is always crowded. "I have always worked hard here, from the early morning until the end of the day," she says. "I take care with everything, every single thread of beef noodle soup. I always want to serve people in a good manner, regardless of who they are".

Born in 1938 in the central province of Thua Thien-Hue, the region famous for Bun Bo, she has tasted bitterness and overcome hardships in her life. Her mother died when she was only 10 and her father and brother were arrested for joining "Viet Minh" revolutionary forces. She had to quit school and made ends meet by working odd jobs.

She got married at the age of seventeen but her husband was forced to leave for Sai Gon to join the army of southern Viet Nam in 1967 and she followed him to the city. When he was allowed to return home due to bad health, the couple were determined to settle down in Sai Gon despite difficulties ahead.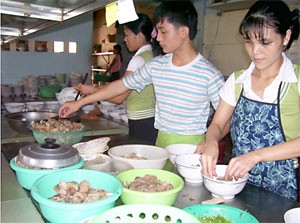 In the kitchen of Bun Bo Ngoc Dung
After the country's liberation, the couple decided to run a beef noodle shop. Everything was difficult at first but gradually the small shop became well-known by locals thanks to the traditional soup's deliciousness. The shop is now several times larger than before and a fancy villa with a beautiful garden has even been built next door.

Mrs. Ngoc Dung and her husband are now busy building a Hue-style row of houses from wood and stone. Although their life is far better, she always tells their children to be industrious and economical.

"My biggest happiness is a happy family. My husband and I have overcome many difficulties and we're still together after 50 years. Our children have been well-educated and have good jobs. That's enough", she tells with a smile.