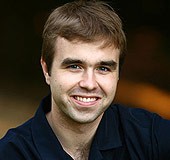 Joe Ruelle (photo: Joe's blog)
Blogging, or keeping an online diary where entries are made in journal style and displayed in reverse chronological order for everyone to read, are becoming just as popular in Viet Nam as they are elsewhere and one of the most successful practitioners. Here is a Canadian guy who can write fluently in the local language. Some of his readers say they are stunned by the excellence of his Vietnamese.
His humorous style and excellent command of Vietnamese slang can make anyone burst into laughter. Joe's blog has become a popular website in the community of Vietnamese bloggers and scores a huge number of visitors and comments every day.
"My name is Joe (pronounce the same as Dau in Vietnamese) and I'm 27 years old. I'm not married yet, and have no girlfriend either. I'm still searching…" That's how he introduces himself on his homepage.
Explaining why he writes in Vietnamese, Joe says he's been impressed by some Vietnamese youngsters who can write fluent English blogs and wants to match them.
Joe Ruelle comes from Vancouver, Canada and lived in Korea before he was lured, so he says, by the Vietnamese dishes nem chua ran and bun cha. He decided to settle down in Ha Noi three years ago and nowadays studies at the University of Social Science and Humanities.
Joe always carries two notebooks with him, one to jot down all the words and phrases he learns in school and the other for everything he discovers on the streets.
He usually writes about what he sees and thinks about Viet Nam, things like the food, karaoke, the way Vietnamese words are used, and how the nation is moving forward.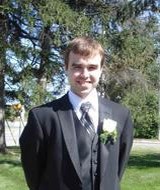 (From Joe's blog)
Having been around the world, sharp-eyed Joe always asks "Why" about everything he finds strange in Viet Nam, but in a very constructive manner.

Even when he is not in the best of moods, he still writes humorously and vividly, of course, in Vietnamese.

Joe is not only known to Vietnamese bloggers and their avid readers. Channel VTV1 has done a report on him and the newspaper Thanh Nien has asked him to write a column, something he's already done for Lao Dong newspaper with the weekly "Joe's Corner" column.

Deeply in love with Viet Nam, Joe says he will find a job after finishing his Vietnamese course in two years, marry a girl and settle down here for good.

Joe's profile:
http://360.yahoo.com/profile-ZMOTQG87dKNqpNerKypCkL2a