Cart wheels, the wooden not gymnastic kind, once merely the obsolesced trash of days gone by, are now all the rage in Saigon's interior decoration circles.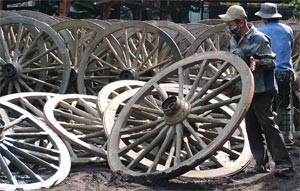 The cart wheels are refurbished to become decorations in big cities
One might never expect to see them in modern metros like Ho Chi Minh City but they're appearing more often in big cities round the country and even overseas.

According local resident in the southern province of Tay Ninh, all kinds of wooden wheels are making their way into shops, restaurants, resorts and even private residences.

The reason for their popularity apparently lies deep within urbanity whose participants long for breaks from high-tech commuter hell and pine for unassuming, more primitive bits of beauty from the past.

In response, businesses have set up services finding, refurbishing and decorating wooden wheels in several southeastern provinces, like Tay Ninh, Dong Nai and Binh Duong. Decrepit, damaged and disused wooden wheels and even their parts are collected, cleaned up, recreated and resold at VND1.0-1.2 million (some US$62) a pair.

Whole antiquated carriages getting the treatment, too, and being sold renewed at about VND2 million or US$125 each.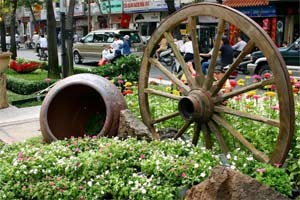 A cart wheel is used as decoration on the flower street of Nguyen Hue on Tet Holidays
The wheels aren't used only as mere decorations. The artistic touch of local carpenters applied to carriages and wheels can turn them into impressive-looking chairs, tables or table tops, adorned by the natural beauties of the wood and metal fittings. One set of table and chairs made from wooden wheels is being sold for VND5 million (about US$312).

According to Tran Van Tri, a wooden wheel refurbisher in Binh Duong province, even consumers from Taiwan, Japan, Korea, Canada, Australia, the U.S and France are very keen on these craft products, for they convey one unique form of beauty only found in Viet Nam. Most customers use the wheels as decorations for fences and front gates, said Tri.

The newly-born niche market has in fact awakened a Viet Nam's unique cultural heritage long forgotten inside the country itself.