Vo Huy Quang, a well-known collector of historic documents, has around 8,000 pictures of President Ho Chi Minh and 15,000 photographs of Con Dao Island, where political prisoners were incarcerated by the French and Americans.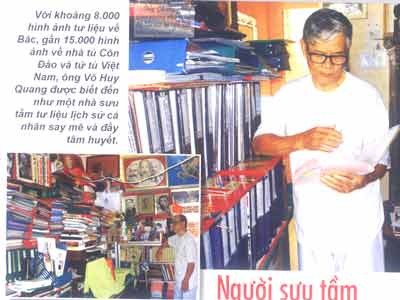 Mr. Vo Huy Quang in the room with the labor of his love
But to start at the beginning, he was born in a family that participated in the struggle against the US, joined the army in 1949, and became a member of the Communist Party in 1961.
He was sentenced to death by the Ngo Dinh Diem government in South Vietnam in 1962 and sent to death row.
In prison he resisted all efforts by his captors to extract confessions and secrets about his comrades-in-arms.
In 1973 he and his partners succeeded in escaping from prison.
After liberation Mr. Quang worked for Ho Chi Minh City's Department of Culture and Information. He was later posted to a museum, which sparked his interest in collecting pictures about the war, Uncle Ho, and prisoners.
"Collecting and preserving these photos make me happy," he said.
He spends his time to trace details of the events his photos depict. A small room on the third floor of his house is packed with the labor of his love.
He has published books, including a collection of photos of Uncle Ho. Mr. Quang has put together a yearlong exhibition on Con Dao Island.
His one wish is to show his collection of Uncle Ho's photos to the people.