A walk along London's St. John Street reveals a rather surprising coincidence. On one side is a restaurant specializing in the Vietnamese noodles known as pho, and immediately opposite is a restaurant serving other dishes of Viet Nam. The pho eatery is run by a foreigner and claims to have been the first Vietnamese restaurant in the British capital; the other is owned by a Vietnamese woman who moved to Norway years ago.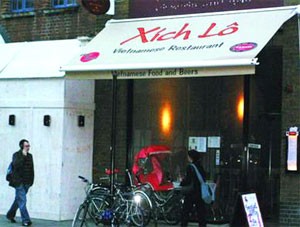 Xích Lô Restaurant in London
The London suburb of Hackney is the home of many Vietnamese people and their food, but it's the English who have a special predilection for "Vietnam in a Bowl", the pho restaurant owned by Juliette and Stephen Wall.
 
The couple are very knowledgeable about this "national spirit and characteristic" dish of Viet Nam. They opened the restaurant for a very simple reason: "Just because I love pho so much!" says slender 30-year-old Juliette.
 
She and her husband came to Viet Nam in 2004 as one leg of an Asian holiday.  "We saw many people ordering pho so we got some ourselves though we knew nothing about it and had never tasted it. We liked it very much because it was good for health," she says.
 
After returning to London, they decided to set up their own pho restaurant and hired a Vietnamese cook to ensure the food was authentic.
 
"We prefer Vietnamese dishes to the food of the neighboring countries," Juliette says, "It's not very spicy or fattening and the side dishes are fresher. We have lots of regular customers; some of them come here to eat five times a week."
 
Juliette often takes the time to talk with her customers and guide them in getting the most out of pho. She tells them that one of the most interesting things in Vietnamese cuisine is the idea of self-service. "Flavor your dish with condiments according to your taste," she says.
 
So for many Londoners nowadays, lunch or dinner is a bowl of pho costing six or seven pounds and a glass of iced coffee for 1.5 pounds.
 
On the other side of the road is Xích Lô, whose front carries a sign reading "Viet Nam Beer and Restaurant" - something that few Vietnamese restaurants outside Viet Nam would do, often preferring to describe themselves as Chinese or Thai.
 
Xích Lô's owner is Ms. Chieu, a small woman born 40 years ago in Phan Rang on Viet Nam's central coast who moved to Norway at the age of 15. "We have to be confident," she says. "Vietnamese food is great. I feel completely comfortable about serving Vietnamese food and nothing but."
 
Talking about the name Xích Lô, Chieu says her Norwegian husband was very fond of the cyclo and thought they were only found in his wife's homeland.
 
They have ordered one stainless-steel cyclo made in Viet Nam to place in front of their restaurant, and there is a model cyclo made of iron on the wall.
 
Xích Lô serves up authentic Vietnamese dishes but they are arranged in a Western style to suit the upper-middle-class customers that Ms. Chieu targets.
 
It's been around for four months now. A scene which is often seen in front of the restaurant is curious pedestrians inspecting and touching the cyclo. Many of them ask the owner's permission to pose with the machine for a photo. Some stand beside it, some sit on it, some sit in it. For them, the cyclo is their first experience of Viet Nam.