A thousand times Dr. Trinh Minh Tri who has been working in a medical facility in suburban Cu Chi District for over 10 years had asked himself whether he should leave the hospital in an outlying district of Ho Chi Minh City for a bigger and better one in metropolis district but he has not yet said bid farewell because most of his patients in the outlying district are poor farmers. They are as lovely as honest people and he is feeling the effects of these residents.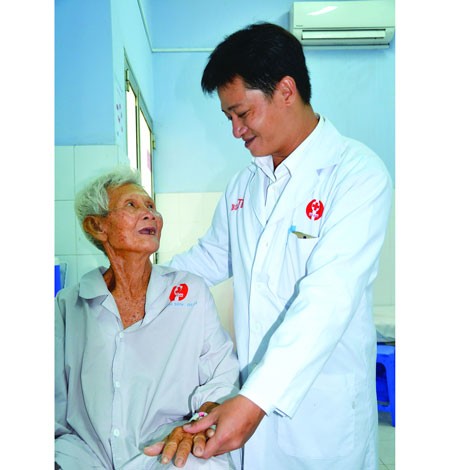 Dr. Tri and his patient (Photo: SGGP)
For one year only, 16 out of 22 medical workers of the district general hospital had left the hospital for new jobs in bigger hospitals. After racking his brain, 35 year old Dr. Trinh Minh Tri had decided to stay in the small hospital in the district and he had been appointed to be head of the surgical ward.
Dr. Tri remembered unlike his classmates who chose big hospitals to work, in 2004, he applied for a position in the General Hospital in Cu Chi District.  At that time, medical workers in the suburban district hospital faced not only with shortage of equipment and work pressure but also low income and inhabitants lost their faith on medical staff's skills.
Yet all medical workers had devoted to the profession and he felt that he would be able to connect them, he recognized that the land where he chose to stay after leaving for the South is his home.
A "storm of brain drain" took place in the hospital in 2004 when many  trained physicians quitted the position in the hospital for a newly-built private hospital which offered them better income. In that year, the hospital management board received 60 resignation letters causing a severe shortage of personnel. Hospital director Dr. Pham Van An, said that no-one could reproach these doctors who wanted to have better income and this is a chance for those who can show their capability and Dr. Tri is one of outstanding doctors.
Both colleagues and patients said Dr. Tri is an enthusiastic doctor in work; he is often present in difficult operations or encouraged the patients to overcome their difficulties.  With the help of colleagues, Dr. Tri had carried out difficult surgeries including complicated cases of holes in heart, broken liver, and crack lung to save lives of many people. Smiles and teardrops of patients' relatives had kept the devoted doctor in the poor district for long years.
Currently he directly performs 20-30 operations a week averagely.  Yet sometimes he has to conduct 10-15 operations in one day. His wife, Nurse Nguyen Thi Huong Thao said that she had been a nurse in the operation ward where there was too much pressure. Since Tri has been overloaded with work, she had to transfer to administrative work in treatment ward so that she can take care of their children and the family.
At present, of 14 surgeons in the General Hospital's Surgery Ward, 8 are newly young doctors. Dr. Tri said that old generation of doctors will instruct and give their young colleagues a chance for doing their job well.