An ambitious project for dreadfully ill children initiated by five students from Ha Noi-Amsterdam High School has been supported by hundreds of volunteers from all over the world and a cash injection of US$10,000 from the World Bank.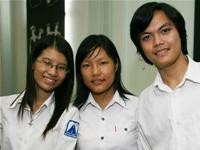 Three of five students from Hanoi-Amsterdam High School (Photo: Tuoi Tre)

"Bringing the Smile, Dispelling the Pain", as the project is called, came out of the many goodwill visits to hospitalized children by the young volunteers.

"We used to be volunteers at the Central Children's Hospital. We saw so many children with rare diseases. They were totally depressed so we decided to do something about it," says Phung Thanh Thuy, one of the five high schoolers.

They started out by staying in the Central Children's Hospital for four months. After school, they would gather for discussions and reality trips. Thuy remembers the early days when it was so hard to approach the young patients, who would just shy away.

Then they did a survey and made a shocking discovery. Every one of the children experienced chronic pain and depression and had no one to talk to, 70% did not want to leave their beds, and only 4% went to the playground.

A detailed plan was finally completed and the World Bank gave them US$10,000 to get started.

However, no sooner was it about to kick off when the five students entered their final year of high school, so they called for help from other young people.

Fortunately, the project was taken over by SJ Vietnam, an international youth NGO with hundreds of volunteers from Viet Nam, Korea, Japan and Mexico.

The project began in the Central Children's Hospital, where each ward now has a space for children and volunteers for painting, fishing, doing jigsaw puzzles and such.

A big hit with the young patients is "Big Brother, Big Sister", a game borrowed from the famous program in America.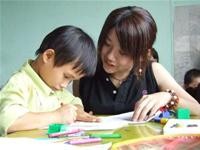 A Japanese volunteer tutors a tiny patient in the Central Children's Hospital (Photo: Tuoi Tre)
The volunteers feed and bathe the children and generally look after them. They visit every bed and chat with the kids, read them books and become their friends, and gradually the children respond and brighten a little.

Volunteer Dang Nhu Y says little children want to be comforted and play with stuffed animals whereas the older ones want to paint and listen to fairy tales.

As one mother said happily: "My child and the other boys and girls become cheerier and are less sick."

Despite the language barrier, the foreign volunteers have won the hearts of many patients. Sung Hwan Hong, a Korean student from Canada's Toronto University, is revered for his funny animals made of clay.

Japan's Kazuko Mihara, who is teaching the kids how to draw, finds great purpose in the project. "They are now in high spirits," she says of her little charges.
Some tears were shed on the day a tiny patient left hospital and said goodbye to the foreign volunteers. Her mother had this to say: "Thanks to you, my daughter has recovered. Thank you, doctors of the soul!"