Of late, more and more foreign tourists have been visiting Long My Commune in Mang Thit District in the southern province of Vinh Long, and locals are constantly facing problems in communicating with them, often without much success and more with a deep sense of frustration, resulting in a loss of potential profits to the farmers.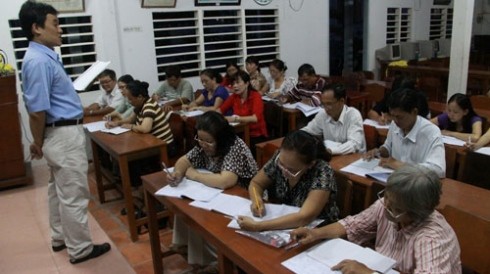 English language class for farmers in Long My Commune (Photo: Tuoitre)
This has resulted in Tran Thu Ha, Secretary of the Party Committee of Long My Commune to form an 'English club' so as to create a platform whereby farmers of all age groups can come together and try to communicate in spoken English.
"At first, the club had only 15 members and no teacher at all!" recalls Tran Thi Yen Nhi, a student. However, within a month the club had a real teacher from the Mekong University. The club also managed to put together some material from a nearby bookstore and started Basic English speaking classes.
The farmers initially were uncomfortable at giving up their relaxed way of life for tough lessons which the teacher demanded. Discipline came slowly to them but as the class progressed, enthusiasm also grew. They overcame sociological barriers of age, old men sitting with youth, but the desire to learn English enthused them to overcome their doubts and fears. Most of the class comprises of 60-year-old farmers.
English for communicating
Reflecting back, 60-year-old farmer Nguyen Van Dom remembers how he wished to communicate with foreigners, but felt frustrated when he could not even give them simple directions to go anywhere. Feeling quite unhappy with his situation he joined the club along with his 53-year-old nephew, Mai Dac Thanh, to learn English. "I am a total nervous wreck each time the teacher asks me to speak in English! But I won't quit!" said Thanh.
On the other hand farmer Nguyen Van Bay Rau seems a bit more confident. While trying to introduce himself in class he said, "Mai nem xe von rau" (My name's Seven Rau).  Receiving a loud applause and peals of laughter from his audience, he continued, "Am o pha mo" (I'm a farmer). Looking quite satisfied, he stated that he felt a lot more confident after joining the class. Now he is able to make small talk with foreigners or invite them for a drink with "chi-chi" (cheers!).
Such positive results from the English Club have encouraged many other farmers to join. 60-year-olds Mr. and Mrs. Cao Van Sau from Vinh Long City are showing an interest in learning. Lecturer Lam Thai Quang from Mekong University, the teacher of the class, admits that the class is enthusiastic and very promising.
With a warm smile, he recalls an incident on his first day in class, "Everyone stood up and loudly said 'Goodbye teacher!'. Now, they are so much better and improving by the day. "How old, yet so enthusiastic about learning! How proud I am to be their teacher!" Quang acclaimed.
According to Tran Thu Ha, the class is held at the commune cultural house and is part of a project to teach English to farmers of Long My Commune, where the focus is now on to developing tourism.