Nam Thanh Thanh That Clinic in Ho Chi Minh City's District 1 is a familiar destination for poor patients. Its physicians treat them for free using traditional medicines.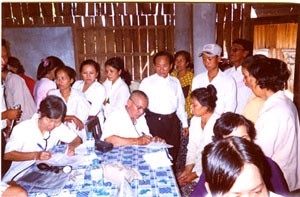 Doctors of Nam Thanh Thanh That is examing poor patients.
When Sai Gon Giai Phong's reporter visited it, there were 10 patients standing in line to get treatment from the doctors.
Nam Thanh Thanh That , established in 1993, works three days a week.
Two years ago Nguyen Thi Hoang of District 1 had a surgery on her ovary. The poor woman did not have enough money for postoperative treatment.
She found out about this clinic from an acquaintance and went there to receive traditional medicines. She is now recovering and has not suffered any side-effects from the drugs.
Tran Cong Hoa from the same district told Sai Gon Giai Phong's reporter he had hypertension in 2004 and was paralyzed. Upon some neighbors' advice, his family brought him to Nam Thanh Thanh That. After taking medicines for a year, he recovered and his family continued to take him to the clinic for physiotherapy.
Since he found it very hard to move, clinic's physicians also visited his house to provide acupuncture treatment.
Since the beginning of this year has improved so much that he now visits the clinic regularly to help other poor patients.
Followers of Cao Dai – A religion founded in Viet Nam -- have donated VND120 million (US$7,000) this year to the clinic to collect medicinal herbs.