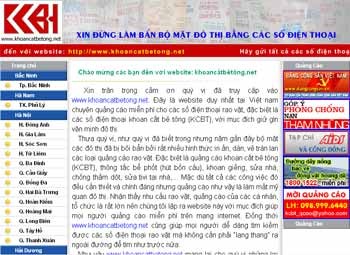 Homepage of www.khoancatbetong.net
A new website looks to curb illegally spray-painted advertisements that plague Viet Nam's cities by providing poor building workers a free internet advertising forum.
Strolling through any one of Viet Nam's major cities you are bound to notice the haphazardly painted phone numbers put up on walls by laborers of all sorts who are in need of work.

Thankfully, those who find it an ugly nuisance can breathe a sigh of relief as www.khoancatbetong.net offers authorities an appropriate solution to the problem.
As a young student at the Ha Noi University of Construction, Tran Hoang Viet felt his city's beauty was obstructed by the jarring and obtrusively painted advertisements.
But Viet also understood the problem and couldn't fully condemn those who took advantage of the city's walls illegally. "As a construction engineer, I used to work with independent contractors," he says. "They are all poor and don't have enough money to advertise on newspapers. That's why they illegally paint their phone numbers on walls and lamp posts along the city streets."
Eventually Viet realized that all the laborers needed to find work and stop vandalizing was a forum where they could reach a wide audience with cheap advertisements

He then began to develop the idea of a website that would gather all the phone numbers off all the different kinds of workmen who wanted people to have access to their information—from construction workers to sanitation workers—and posted them for all the public to view and use freely
However, as a student, he did not have enough money to produce the idea, which still obsessed him after graduated.
"I had spent all of my savings for my wedding, so then I had to borrow money from my friends to make the website. At that time, my wife disagreed with my idea; she said it is not my duty to care about that problem. I had to convince her" recounted Hoang Viet.
With his wife convinced and the money borrowed from friends, Viet launched www.khoancatbetong.net with a long list of Hanoi phone numbers.
The name of the website means "concrete drilling," as concrete drillers' phone numbers are found most prominently on city walls—you will often see "khoan cat be tong" before or after the painted numbers.
In the beginning, Viet simply noted down all the phone numbers he saw on the way to work. Every weekend, he traveled around Ha Noi to take pictures of phone numbers painted on along the streets, and then posted all the new numbers he found on the site.
In addition, he appealed to his friends to provide phone numbers they found in other cities.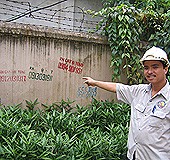 Tran Hoang Viet points at the illegally spray-painted advertisements
Soon his website contained thousand of phone numbers of handymen providing every service you could imagine for reasonable rates in dozens of cities nationwide.
He categorized the website by for easy access the public's easy access.
"My website is the place for any one who needs labor services or has service to offer. I hope it will help reduce the phone numbers illegally painted on the walls," Viet says.
Every weekend, Viet still scours the streets and collects more number for the website, hoping that eventually the website will generate enough momentum to put an end to the illegally spray-painted advertisements .
"So, go to www.khoancatbetong.net if you're looking for someone to drill into concrete, free up a grease clog or clear a blocked toilet," he says.