Martin Corbally, a doctor with a kind heart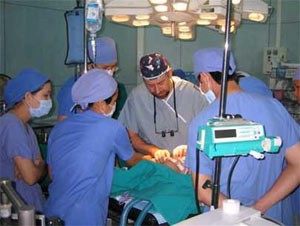 Dr. Martin Corbally (middle) performs surgery at the Children's Hospital No.2
Professor Martin Corbally, a Paediatric Surgeon with Our Lady's Children Hospital, Crumlin in Ireland, and his colleagues have performed surgical operations to replace damaged  tissue in the esophagi of some children who have swallowed corrosive chemicals by accident.

The operations take place at Children's Hospital No.2 in Ho Chi Minh City and last approximately 7 hours.
The procedure has, for a long time, been too difficult for local doctors. Unfortunately, the condition leading to the surgery is not uncommon. Many careless parents keep chemicals like detergents or gasoline in soft drink containers with the result that their children drink it not knowing that it is poisonous.
The poisonous substance then inflames the child's esophagus and the children wind up having to be fed via a tube. In the past, local doctors have typically replaced the damaged tissue with part of the patient's large intestine. However, this technique has unpleasant side effects related to foul odors being produced by the transplanted tissue whenever food is consumed.
After learning from a friend, Ms. Christina Noble, organizer of the Christina Noble Children's Foundation, about a Vietnamese child suffering from the condition, Dr. Corbally decided to travel to Viet Nam to lend a hand.
Shocked by the large number of children suffering from the condition when he arrived, he decided to return to Ireland and appeal to his friends for support. As a result, once a year a group of Irish doctors travel to Viet Nam to offer free treatment.
Dr. Corbally habitually uses his vacation time for doing humanitarian surgery in Viet Nam. "If I took time off from my regular working schedule to perform surgery in Viet Nam, my colleagues at the Our Lady's Children Hospital Crumlin would have to take responsibility for my duties back home. That's why I do it on my own free time" he said modestly.
"Now I can enjoy food again"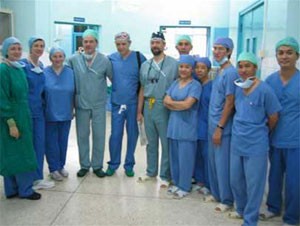 Doctors from Our Lady's Children Hospital, Crumlin and Vietnamese colleagues at the Children's Hospital No.2
Not only do the doctors from the Crumlin Hospital perform the surgeries for free, they also sponsor those of them that are disadvantaged until they are 18 years old.
"Suffering from the effects of poisonous chemicals is a nightmare for those children's lives, so we do our best to repair the damage and help them return to a normal life" one of the doctors said.
After drinking acid by mistake, Phi Hoang was the first patient to receive treatment from Prof. Martin's team. Prior to having surgery performed on his esophagus, he had not been able to enjoy food for six years.
In addition to offering humanitarian surgeries at the Children Hospital No.2, Our Lady's Children Hospital, Crumlin also sponsor Vietnamese doctors to study at hospitals in Ireland.