A 15-year-old girl whose hair burst into flames several times in the past two months has started writing love ballads and her father reckons they're really good.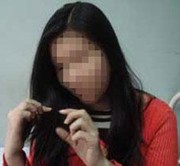 Bui Viet Ha

Bui Viet Ha of Nam Dinh province near Ha Noi has drawn the attention of many Vietnamese scientists, who say an endocrine disorder is the root cause of the hair combustion.

She suffered from constant headaches until mid-January. That was when she turned to songwriting, and as she has continued churning out ballads so the headaches have subsided.

Nguyen Phuc Giac Hai, director of the Human Potential Center, told reporters that Ha's parents should not be so worried about their daughter's hair problem as "telepaths say it reveals a special ability".

Ha's father was knocked flat when his daughter gave him the first song, which she'd called The Late Broken Promise. She has since come up with six more, all on the subject of love, and each taking five minutes at most to compose.

The father is a guitarist of note and knows more than a bit about the musical arts. He thinks his daughter's songs show a surprising level of professionalism and describes her melodies and lyrics as excellent. "And I'm not just saying that because she's my daughter."

The researchers have recorded Ha's songs but have yet to release the CD as they believe she has other abilities waiting to be discovered. Well, that's the reason given by Mr. Nguyen Phuc Giac Hai from the Human Potential Center.
Related articles:
Researchers: Endocrine Disorders Cause Hair Combustion
Hair Burns Itself