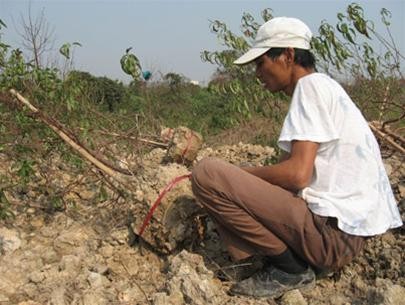 Farmer Cuong collects live flower root for the next year (Photo:tuoi tre)
Some farmers in Tay Ho District, to the west of Ha Noi, have gone broke after their peach blossom crops perished due to floods, cold weather and hail storms. Just 15 km to the east though, their counterparts in the Red River Delta province of Ha Tay are busy preparing for a bumper crop.
Mr. Duc Lam, an expert on peach blossoms living in Tay Ho District, said that in more than 50 years of planting this flower, he has never experienced such a poor harvest.

Half of the roughly 1,000 peach blossom plants in his garden have died and the rest have no buds at this time so they will not be flowering in time for Lunar New Year celebrations.
His eyes filling with tears, he talked about the deaths of his plants and how just last year a client had asked to buy one of them for VND 7 million - a large amount of money to a farmer in this region.
Farmers in Xuan La also suffered losses. The death rate of plants there is about 60 -70 percent.
In some cases a farm's entire stock was wiped out resulting in the farmer going broke after a year of hard labor. Mr. Tuan, a farmer in Xuan La, estimated his losses at up to VND600 million.
In response to their losses, however, some farmers scoured surrounding regions and purchased new plants to replace those that perished in an attempt to salvage the growing season.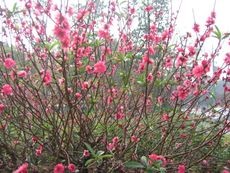 Peach blossom bud in the Lunar New Year
Good times have arrived in Ha Tay though, as plants there have begun to bud, signaling an abundant harvest.
In Duong Ba Chan's garden, many of the nearly 1,000 plants are very old and worth a good deal of money. He said some buyers offered him VND100 million for 20 plants but he refused. Chan's neighbor sold eight for VND57 million.
Farmer Nguyen Trung Truc remarked that plants grown in La Ca will exceed those in Nhat Tan in quality and quantity.
Deputy Chairman of the Duong Noi Commune People's Committee, Nguyen Trung Son, proudly stated that residents there will strive to earn VND250 million per hectare of produce.
To encourage customers who come there to buy plants, commune authorities plan to build roads and sewer systems as well as provide escorts to guide and assist the clients.