Despite many hazards and police crackdowns, people continue to flock to Bong Mieu gold mine in the central Quang Nam Province to illegally mine for gold.
The mine is located in a remote, inaccessible area in Phu Ninh District.

It used to be pristine forest but has now become a giant work site with people working hundreds of pits that are surrounded by heaps of soil and rocks.

Bui Quang Minh, chairman of the Tam Lanh Commune people's committee, said the number of people arriving here has increased from just dozens a few year ago to thousands.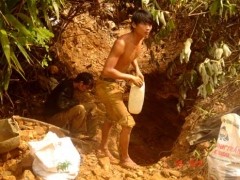 Hundreds of people flock to Bong Mieu every day to illegally mine for gold Photo: VnExpress
Local authorities and police raid the area frequently but after the miners return to continue their illegal work after they leave, he said.

This has destroyed forests, polluted water sources, and disturbed public order, he said.

It is not just men but also women who are caught up in the gold rush and now account for 30 percent of the illegal miners, Minh said.

People set up shelters, carry equipment, and hire workers to mine. Besides the police action, they also face other threats like violence to seize gold, he said.

Last Sunday a young man died and another was seriously injured after they were buried under rocks and soil when a pit suddenly collapsed, he added.

Vo Hoang Anh, head of security at the Bong Mieu Gold Co Ltd, which is licensed to mine there, said: "Despite our warnings about the dangers, the number of people coming here increases day after day."

Tran Ha Tien, general director of the Company, said the fight against illegal gold mining requires long-term coordination between official agencies.

Local security agencies should coordinate with outside police forces to close and level all pits and seize illegal miners' equipment, he said.