A score of community-minded young people have been nominated for the "2006 Young Citizen of Ho Chi Minh City 2006" award from the city's Communist Youth League.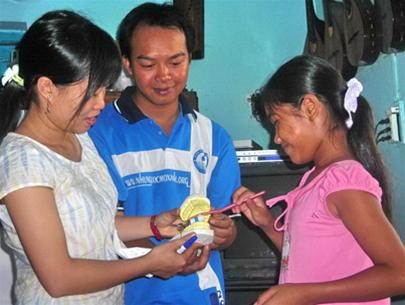 Le Trung Hai (C) teaches children of Mai Lien House how to brush their teeth
One of them is Le Trung Hai, leader of the "Green Wishes" group of volunteers whose mission is to bring a little sunshine into the lives of street children, orphans and disabled youngsters living in shelters.

Their mission dates back to when Hai read a newspaper article about some young people in Ha Noi starting a class for street children at the foot of Long Bien Bridge.

Hai wondered if he, too, should do something as meaningful since the homeless kids in Ho Chi Minh City were in the same situation as their northern brethren.

He began writing to the people in Ha Noi, expressing his concern for the young unfortunates in his hometown, and very soon they were swapping all kinds of suggestions.

Luckily, Hai found four like-minded students in Ho Chi Minh City and together they formed "Green Wishes" in 2002.

Their first activity, for which they spent a week making lanterns, finding suitable presents and wrapping them up, was to celebrate the Mid-Autumn Festival with the inmates of Mai Lien House in Binh Thanh District.

The party was a raging success and the laughter of the children warmed their hearts.

Since then, the Green Wishes group has gone from strength to strength. The number of members keeps growing almost day by day; yet, their meetings still take place on the sidewalks of the street.

For Christmas, they are asking everybody to contribute just VND500 to bring some light to the dark world. To donate, visit the very informative Green Wishes website at http://nhunguocmoxanh.org/.

The group's regular activities include martial art lessons and literature classes at Xa Loi Pagoda and the boat village in District 8.

Hai's philosophy is very simple: "I feel guilty if I don't do something for people less fortunate than me," the past winner of the "Youth with Healthy Lifestyle" award told us.
The "Young Citizen of Ho Chi Minh City" award is for young people who undertake voluntary work that benefits the community, achieve success in business, demonstrate scientific initiative or sporting prowess, or simply treat their parents with respect.

The nominations for the 2006 award are: Nguyen Huu An, Nguyen Quoc Nam Anh, Nguyen Thi Huyen Dieu, Hoang Ha Giang, Le Trung Hai, Nguyen Khanh Anh Hoang, Phan Kieu Thanh Huong, Le Hoang Viet Lam, Le Quang Liem, Nguyen Thi My Loan, Nguyen Tien Minh, Nguyen Xuan Nghia, Phan Thuy Phuong, Vo Tuong Quan, Ho Quoc Thong, Le Thanh Thuy, Nguyen Thanh Trung, Huynh Thanh Tuan, Le Thanh Tung and Nguyen Thi Minh Xuan.

To vote for your choice, go to www.thanhdoan.hochiminh.gov.vn. The winner will be announced on December 25.
Links:
A Woman Who Lights Up the Darkness