Among the members of the Milk Flower Group who take turns taking care of HIV patients in the Dong Da and Ha Noi hospitals each day is Dao Phuong Thanh who personally attends to terminal patients abandoned by their relatives. Thanh says dedicating time to such unfortunate people makes the rest of her life worth living.
At the age 39, Thanh looks determined and graceful with her square face and bright eyes. Looking at her peacefully knitting a piece of cloth, no one can guess Thanh has seen much more than her share of grief.
When 19, Thanh left Ha Noi for Hai Phong to live with her husband, a sailor on a sea-going ship. Happiness didn't smile on her for long. Her husband was lost in a shipwreck at sea when their daughter was as yet unborn.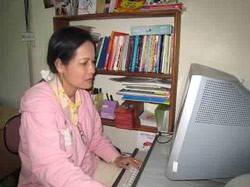 Thank looks for necessay information about HIV disease on the internet
After her husband's death, Thanh went with her husband's family to Sai Gon for nine years. In 1995, she decided to return to Hai Phong where she got a job as a private chauffeur for the director of a trading company.
Five years later, bad news came that her younger brother, the family's only son, was infected with HIV and her younger, long insane, had given birth to twins of an unknown father. Thanh dropped everything and went home.
She could not help but cry when she found her parents old and sick. A stroke had put her mother on her back for 15 years. Her father had one foot in the grave from cancer of the liver. And her crazy sister's kids needed big help indeed.
Thanh took care of her parents and her brother who was already terminal at the time.
One day, while pulling a transfusion needle from her brother's vein, she accidentally pricked her finger with it.
Nine days later, her father and brother together drew their last breaths, Thanh had a blood test, the results confirmed she now was HIV positive, too.
A few months later, her mother died.
Thanh hid away for fear people would look down on her and the whole family ate nothing but rice and soup as none went to work.
Thanh said of those days, "I did not want to live anymore as the medical test result was a death sentence. Yet, when I looked at my daughters, my nephews and psychotic sister, I told myself I couldn't give up."

Thanh decided to look outside her family for help and her life has changed since. Instead of indifference from people around her, she get encouragement and help from her neighbors. She got letters and spiritual support from strangers and organizations who heard of her situation. And she was deeply touched to find people who cared about HIV victims.
Soon HIV policy and aid organizations invited her to attend courses through which she was equipped with necessary skills to administer a group of HIV patients still in good health, who could help and advise other HIV victims on how to protect themselves and not spread HIV.
Then, on August 08, 2004, Thanh set up the Milk Flower Group with six other volunteers. Her flat in Luong Su B alley off Quoc Tu Giam Street in Ha Noi was transformed into the group's office and now they have nearly 100 members and produce knit and embroidered products to earn funding for charitable activities.
Every day the members take turns cooking gruel and serving it free to HIV patients in Dong Da Hospital or they take care of HIV patients abandoned by relatives in Dong Da and Ha Noi Hospitals. They also organize funeral services.
Thanh says, "I'm pleased I have been able to go on with life. In fact, not many [HIV] victims can face the truth and bear talking about their condition. These kinds of patients don't want help, don't want to meet others and, needless to say, will easily die."
As an HIV victim, Thanh knows the real value of life. That's why she and other members of Milk Flower Group lend a hand to those sharing their plight. They say peer support and friendship are important factors for helping HIV patients come to terms with their situation.