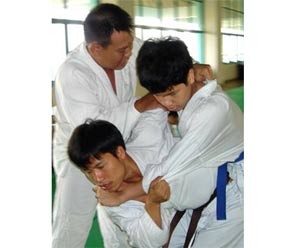 Anh Hoa instructs two of his young charges
Only a few years ago it would have been hard to find a place where blind people could learn a martial art in Ho Chi Minh City. Yet these days the city can boast six judo clubs and three judo schools for the blind and severely sight-impaired, and it's mainly thanks to an initiative by the Communist Youth League and a bunch of dedicated altruists.
Touching is believing
The judo school on the premises of the Ho Chi Minh City Association for the Blind has nearly 30 disciples. In a corner, Huong was repeating probably for the tenth time at least a technical tumble he has been shown. After his first day there, he got home with his whole body aching and his roommates had to give him a massage. It is not a problem now. "I learn a martial art for self-defense," he said with a smile. Perspiring freely after almost an hour on the pitch, these young men still insist: "More, please!"
We went to a judo class at the Nguyen Dinh Chieu School for the Blind to watch some person-to-person practice and speak to the young combatants and the people who are helping them. The students cannot see but they sure can yell and shout. Their trainers use what they call "the touch method". Not only do they explain everything verbally, they also move slowly so that the trainees can feel them and work out what they are doing by touch. One of the teachers, Anh Hoa, told us: "One good thing is that when these students understand what we mean, they can memorize it and we only have to mention the name of the movement in order for them to practice."
Integration through martial compassion
The basic idea of the Communist Youth League's "Judo Training for the Blind" program is that proficiency at a martial art can help sightless children feel they belong. It was a real test of their persuasive skills for the league members to talk young people with sight impairment, their families and the Bung Sang educational facility for children with visual problems into joining the project. "They did not believe that blind people could learn a martial art," said Master Vo Dai Nghia. He recalled how every of them had reached deep into their pockets to raise the money needed and how they had knocked on every door to get uniforms so that "we could look like a real martial art school."
The first judo class in the training hall of Phu Tho Stadium began in May 2004 with 16 students coached by six masters and assisted by nearly a dozen judo trainees with perfect sight. It started out humbly enough but soon the trainers were thinking of making it into something much more, creating a love-filled home away from home. These days it's hard to tell who is a trainer and who is a trainee since everyone treats everyone else like a brother. When asked about the remuneration for a trainer, Anh Hoa could not help laughing. "We are here because we care about them, not for money!"
The disciples come from all over the land. Each may have a different tale to tell of the past but now they share a common destiny. They live together and receive generous support. As one student said, "since I began practicing judo, I have felt in better health, made great progress with my studies, and vanquished my inner fears." One of the masters summed up his philosophy and that of his colleagues: "Whenever I encounter a problem in my life, I tell myself: Look, there are people who are more unfortunate than you and badly in need of your help".
Besides the Ho Chi Minh City Association for the Blind, Phu Tho Stadium and the Nguyen Dinh Chieu School for the Blind, the city has judo schools for sightless and near-sightless people at Nhat Hong House, Thien An House, the Bung Sang residential school, and Ky Quang 2 Pagoda.
Late last year one of the disciples, Trieu Thi Nhoi, won a silver medal at the Asian-Pacific Paragames for athletes with physical disabilities.