Among the factors that have helped Liksin Corporation achieve its goals are the creative contributions of Pham Thi Eng, a member of its marketing staff.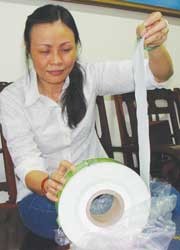 Liksin's creative worker Pham Thi Eng
In 2002, Liksin was the first company in Viet Nam to import a machine from Europe to produce containers for cashew nuts. Initially, the line faced difficulties. Packaging was pierced by cashew nuts and there were other defects.
Whenever customers complained about defective packaging, Ms. Eng immediately contacted them, no mater how far away they were. She identified technical faults and worked out solutions for them.
Since there was only one machine at the company, whenever packaging designs were changed, Liksin suffered a loss of materials. With a view to preventing such a losses, Ms. Eng tried her best to successfully create a technical method capable of reducing the losses by 70 percent.
She also surveyed customers to create products that meet their requirements and thereby brought more orders to the corporation.
In 2006, she found that some containers for tea were exposed to soft paper. She proposed PE20-coated couche paper (60g/m2) be replaced by PE10-coated couche paper (80g/m2). Her initiative helped Liksin maintain and increase orders from its clients such as Lipton and Hung Phat.
Recently, in face of greatly increased prices for some materials, Ms. Eng has given an initiative to lessen the production costs of the vacuum containers for cashew nuts.
Over the past few years, Ms. Eng's efficient, creative initiatives have helped Liksin save about VND600 million (US$36,000) per year. In addition, she has contributed significantly to improving the quality and competitiveness of packaging products made by Liksin. Eighty percent of the company's production is used by Viet Nam's cashew processors.