Citizens in Dak Nong Province are thriving off of farming sweet potatoes with exports across the world.
The people in Dak Buk So of Tuy Duc District were farming rice, pepper, and corn before sweet potatoes.
In 2002, district authorities started importing Japanese sweet potatoes. A cooperative 19/5 in Dak Buk So bought the seeds for the potatoes and started producing them at 15 tons per hectare. They are sold at VND 5,000 per kilogram whereas the traditional Vietnamese sweet potato is only sold at VND 1,000 per kilogram.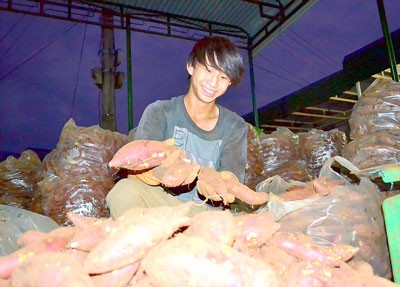 300 hectares of farmland in Dak Buk So dedicated to the sweet potatoes (Photo: SGGP)
Local authorizes held workshops on how to grow these potatoes. In 2013, citizens planted 50 hectares of the Japanese sweet potatoes. There is currently 300 hectares of farmland in Dak Buk So dedicated to the potato.
The Japanese sweet potato is extremely productive with Dak Buk So's climate, said Pham Thien Viet, deputy chairman of Dak Buk So People's Committee.
The first crop gave 18 tons per hectare and costing VND 6,000-8,000 per kilogram. Each hectare profited VND 40-50 million per harvest. The potato receives two harvests per year.
The province lowered the poverty rate to 16 percent. Eighty percent of households in the province are middle class.
There are 2,500 hectares of sweet potatoes in Tuy Duc District, according to the Tuy Duc Agriculture & Rural Development Department.
The Tuy Duc Sweet Potato Association was founded in 2009 to promote the crop. The Tuy Duc—Dak Nong Sweet Potato brand was established in 2012 and certified by the National Office of Intellectual Property of Vietnam under Science and Technology Ministry. It is exported to various provinces and countries worldwide.
Tuy Duc sweet potato is exported to many countries and is popular, said Tran Dinh Manh, Chairman of Tuy Duc People's Committee. We are working to build a nursery for Tuy Duc's households.
Various companies including Kim Oanh of Lam Dong Province, D.J.F. of Japan, and sub-agencies of Taiwan have set up in Tuy Duc.
The potato is processed into candies and cakes and sold at local supermarkets or exported. The potatoes are sent to Lam Dong Manufacturing Plant or HCMC to be processed into other goods.
"Dak Buk So is currently lacking a processing plant. It will be much more cost-effective if the city has its own," said Pham Thien Viet.
Other districts in Dak Nong including Dak Song, Dak Mil, and Dak G'long have also started cultivating the plant.
Every year, Dak Nong province produces 90,000 tons of sweet potatoes. Dak Nong is calling for investment enterprises to produce seeds and build a manufacturing plant at a capacity to process 70,000 tons per year in Dak Song and Tuy Duc.