"Building a happy family is the responsibility of every Party member," a Ho Chi Minh City-based trader, admitted recently to the Communist Party of Vietnam, said.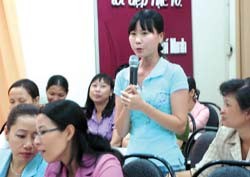 "I have become more confident and responsible," young, new Party member Nguyen Thi Binh Em said at a meeting on Feb. 3, referring to her decision to join the Party (Photo: SGGP)
Ly Thi Be was speaking at a meeting held on February 3 between Nguyen Thi Lan, deputy head of Personal Department of the city Party Committee, and new members.
Ms. Be, nearly 50, a shopkeeper at Hoa Hung Market in District 10, said she joined the Party not for personal benefits but to find a purpose in life. She is deeply involved in social and charitable work.
Nguyen Thi Binh Em, deputy chairwoman of the Women's Union of Phuoc Kieng Commune, Nha Be District, told the meeting: "Joining the Party has given me more strength. I have become more confident and responsible.
"A good Party member should not think only about himself or herself but act for the benefit of everyone."
Trinh Thi Quy, another newcomer and a trader in Phuoc Long B Ward, District 9, said, "As a Party member, I tell other traders not to sell fake goods, overcharge, or cheat customers.
"I want to set a good example for my children by initiating a healthy lifestyle and leading a more responsible life."
Thi Thi Ngoc Lan Thanh, chairwoman of the Women's Union of Ward 6, Go Vap District, said: "I must make myself an exemplary citizen if I to want to persuade members of our union. For instance, if you want to tell the public to practice thrift, you must be the first to do so."
Speaking to new members, Ms. Lan said: "Your constant efforts to achieve in life are commendable and are a good lesson to everyone. You are highly persuasive representatives of our Party."