The soldier fought bravely on battlefields and lost one of his legs in the war. Despite his injuries and lack of money, Nguyen Kien Cuong struggled for a new life in the postwar period, against all odds he has won once more.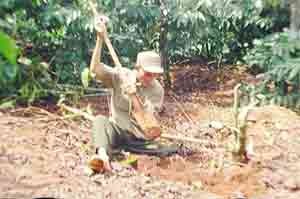 Nguyen Kien Cuong works on his coffee plantation
Located in Dac Song Commune of Dac Nong Province, Cuong's wooden house is surrounded by hills of coffee, cashew and pepper trees. The house not only has an orchard of avocado trees, with branches hanging low under the burden of numerous smooth skinned fruit, it comes with a big pig farm and two large fishponds.

Getting through hardship

In 1996, the disabled soldier and his family began to settle down in the new economic zone of Dac Son Commune. It was not an easy start for him.

Despite his disability, Cuong cut down trees and hoed land. No matter how hard Cuong and his wife worked, they did not earn enough to live on. On many occasions, his wife urged Cuong to take the family back to their hometown, as she could not stand seeing him working so hard with little reward.

Used to being a soldier with great spiritual strength, Cuong did not lose heart. Cuong recalled, "I believed that we would have a future if we worked hard because we had fertile soil. The problem was that we didn't have any money for reclamation."

Cuong decided to borrow money from his friends as a starting fund for his growing and breeding business. He burned trees on mountain slopes to till fields and broke fresh land to grow coffee. At the same time he cultivated short term crops, including cassava and sweet potatoes in the same space for his family's food.

Working hard caused an adverse effect on Cuong's wound and he suffered a relapse. Cuong had no choice but to recoup for a while. But as soon as he felt better, Cuong got up and went to the plantations again. He climbed up the coffee trees to pick up berries and dug two ponds to raise snakehead fish.

When he could earn some profit from selling the harvested coffee, Cuong immediately invested it in breeding pigs and growing fruit-trees. Unfortunately, disease killed all his pigs. Cuong recalled, "Misfortune never comes alone. Coffee prices suddenly declined at the same time and the drop brought my family to the verge of bankruptcy!"

Despite hardship and challenges, Cuong decided to restart his business by borrowing more money from his friends to grow cashew trees. He trusted that land would never betray hardworking farmers who devote their time and effort to it.

Fruitful results

After setbacks, luck began to smile on him as Cuong harvested a bumper crop from his family's two hectare coffee and 1.5 hectare cashew plantations. He also made profit from the sale of more than 10 pigs and dozens of tons of fish.

After repaying all debts to his friends, Cuong began to invest in growing pepper trees. He covered his children's schooling, bought a light truck, motorbikes and household appliances for his family.

At present, Cuong's family can earn an annual income of nearly VND 200 million ($11,500). Three out of four children are university graduates, the other is a high-school pupil.

According to Cuong, one of the secrets of his success comes from the knowledge in husbandry and growing techniques he reaped from books, TV and radio programs. "Without them, things would be different," he said.

Cuong is now the chairman of the Dac Song Commune Veterans' Association. To help the members of the Association escape poverty, Cuong acts as a guarantor for them to borrow money from the bank for starting funds and helps them grow coffee and cashew trees or breed fish.

Thanks to Cuong's devotion, all the members of the Association and their families cannot only climb out of poverty but also make fortunes in an honest way.