86 Hang Bac in Hanoi was once the headquarters of the Capital's Regiment command post during the early days of the war resistance movement against French colonial rule and is now the home of a patriot's intellectual family lineage.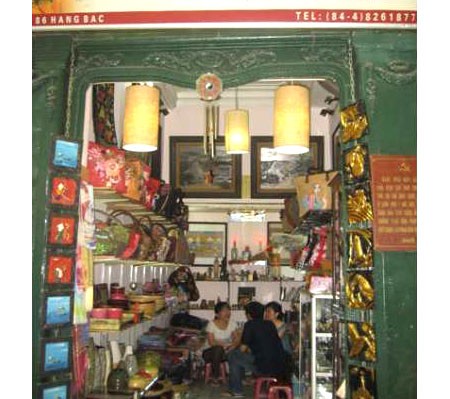 86 Hang Bac house in Hanoi, the former headquarters of the Capital's Regiment command post.
The head of the family was Pham Chan Hung, the proud owner of the famous Chan Hung gold shop at 86 Hang Bac. He was already a renowned and wealthy man much before the August Revolution in 1945
 
He had three wives, who were all good businesswomen and mainly because of them the Phams became one of the richest families in Hanoi.
 
However, his wealth and affluence didn't deter him from a greater sense of purpose. During the early 1920s he attended the patriotic meetings Dong Kinh Nghia Thuc, organized by the fiery scholar Luong Van Can. He later contacted Phan Boi Chau and Phan Chau Trinh to strengthen his patriotic fervor.
 
Faced with the occupation of his country by the French colonialists he was adamant in voicing his patriotic and national independence ideas.
 
He left for France during the early 1930s and then to the US to understand the present situation in his country better.
 
He returned in late 1930s when he began the publication of an Agriculture-Industry-Trade newspaper with his own home as the newspaper's headquarters.
 
His home soon became the center of patriotic group discussions all throughout the 1940s. His status and prestige in society helped his election as chairman of the Dong Kinh Nghia Thuc area which housed his home and newspaper headquarters.
 
Immediately following the August Revolution the country faced difficult times. The late President Ho Chi Minh launched the "Gold Week" which called for all citizens to contribute gold to the state exchequer.
 
Pham Chan Hung was assigned as chairman of the "Gold Week" and he and his family contributed generously towards the cause. He encouraged many rich families in his area to donate to the country.
 
The quintessential citizens
 
Mr. Hung's youngest child, Professor Pham Huy Dung is presently living in 86 Hang Bac. He speaks fondly of his father saying that even though his father had made a fortune in business, his beliefs were based on Confucianism and he was taught from early childhood to consider education as the root of success.
 
Today Mr Hung's legacy is considered to be his great intellectual children.
 
Professor Pham Huy Thong, the eldest son is an academician, a great intellectual and a renowned poet. He is also a famous revolutionary following on the footsteps of Uncle Ho, Pham Van Dong and Vo Nguyen Giap.
 
Mr. Thong went to France in 1937 where he earned his master's degree in history and geography and later did his doctorate in law.
 
He was honored with the title of "Professor" and held the post of commissioner in the French Government's Supreme Education Council when he was only 31 years old. He assisted President Ho to interpret and draft documents at the Fontainebleau Conference in 1946.
 
He joined the French Communist Party in 1949 and held the post of chairman of the Liaison Association of Vietnamese Patriots in France. He fought ceaselessly for an independent Vietnam in France and was expelled to Saigon by the French colonialists in 1952.
 
He joined the Vietnam Labor Party in 1953 whilst he was still in prison. Subsequently, the Saigon administration had to release him following fierce protests by people.
 
After his release from prison, he and lawyers Trinh Dinh Thao and Nguyen Huu Tho continued to fight the imperialist forces for freedom and peace in Saigon. The Saigon administration was so afraid of him that they banished him and his compatriots to Hai Phong. 
 
He was designated as professor by President Ho Chi Minh, and held the post of principal of the Hanoi Pedagogy University from1956 to 1965. He was head of the Vietnam Archaeology Institute and deputy head of the Vietnam Committee of Social Sciences from 1965 to 1986.
 
The Party and Government posthumously awarded him the Ho Chi Minh Prize in 1996. A beautiful road in the capital surrounding Ngoc Khanh Lake has been named Pham Huy Thong.
 
Mr. Hung's second son, Mr Pham Huy Thai went to Japan in late 1930s where he graduated from medical school before he became a rich capitalist in Japan.
 
He didn't go into politics but he was an influential economist. He was cited for rebuilding the Japanese economy during the postwar period and helped trade between many Eastern European countries.
 
He was awarded the Medal of Merit by the governments of Czechoslovakia, Poland and Hungary for his contribution in uplifting their economies.
 
Even though he was offered important positions in the Saigon administration, he refused them all.
 
Mr. Hung's third son is Pham Huy Nhung, who was once head of a squad of the Vietnam Independence League. Later, he became an economics professor in Japan.
 
Mr. Hung's other sons also followed their brothers to become instructors in universities in Vietnam.
 
His youngest son, Pham Huy Dung, is professor of Hanoi Medical University and vice chairman of Thang Long University's management board.
 
Mr. Dung revealed that his family's ancestor Pham Quang Chieu had passed pre-court competition-examination during the Le dynasty and his name was carved on a stone tablet in the Temple of Literature.
 
He claimed that according to the original records of the family history they were the 24th generation descendants of Pham Ngu Lao.
 
As descendants of a famous general in the Tran dynasty and as children of a patriot, Mr. Hung's children have continued to live up to the expectations of their highly revered forefathers.