Until recently, in order to get to their schools or markets, local students and lychee traders in Luc Ngan district of Bac Giang province had to risk their lives crossing dangerous rivers on rickety ferries during the flood season.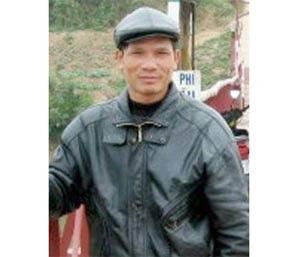 Mr. Le Van Chuong, who builds the first pontoon bridge in Luc Ngan district.
Today though, they can safely cross the rivers year-round over pontoon bridges built by local engineer Le Van Chuong, who owns a small machine shop employing young workers from the Phuong Son commune.
Speaking over the din of machinery and hammers, he said, "We are ramping up production in order to prepare the sub-assemblies for another pontoon bridge in Nghia Ho, a rural commune in Luc Ngan district."
Local residents refer to Chuong as the "the bare-foot inventor", for his good-natured personality and his generous determination to serve communities by building new bridges.
Luc Ngan has become the country's most important center for the lychee trade. Formerly though, tons of the fruit never made it to market because traders could not move them across the rivers during the flood season. The rivers also caused a major danger to local children who had to cross the rivers on unstable ferries in order to get to school.
Unhappy with the situation, Mr. Chuong set about studying the design and construction of pontoon bridges, ultimately designing his own version after carefully surveying the existing bridges in the province.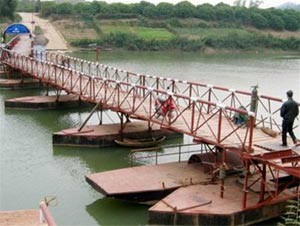 Local people now can safely cross the rivers year-round over pontoon bridges built by local engineer Le Van Chuong.
He then raised the necessary funds from his friends and family members, completed the legal procedures, bought materials, hired more workers and built the first bridge in August 2000 across the river flowing through the Dong Doc-Tan Lap communes.
At the inauguration ceremony, hundreds of locals flocked to both sides of the river to celebrate and many elderly were moved to tears by their gratitude. "I can't believe that I have been able to see a bridge here in my life time", said one older resident, "It's like a dream. From now on, the children won't need to cross the river on dangerous river boats".
After the success of the first pontoon bridge, authorities and people in nearby communes also placed an order for one of Chuong's bridges. Two years later, another four bridges had been constructed and put into operation in various communes in the area.
Talking with relatives and friends Chuong said, "I don't care about money, building bridges for other people is what makes me happy, so I'll continue to save my money for other bridges in the future."