Embedded in the Truong Son mountain range amidst thick forests, lies the Aur ethnic minority village in A Vuong Commune of the Tay Giang District, in the central province of Quang Nam.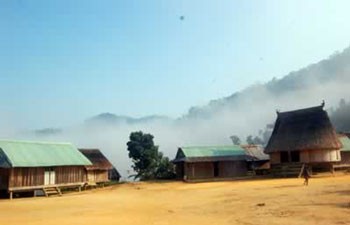 The Aur ethnic minority village (Photo: Da Nang People's Police Newspaper)

Known for its clean and healthy environment the village landscape resembles a fairy land. One needs to trek 20 kilometers of forest and cross four high altitude mountain ranges to arrive in this village which seems wrapped in cloud and mist.
Duong Dong is a teacher in the village of Aur and tells us that residents in the village are extremely civil to each other and the village follows strict rules. Anyone seen throwing garbage would be fined and young people are expected to clean the village area along with 17 homes every two days whilst adults are expected to do the same chores in 5 days.
Most houses are made of wood with steel roofing and brick floors. According to the laws laid by the elders, all villagers have to clean their houses and the village areas three times a day, in the morning, afternoon and evening.
Children of the village are playing together around camp-fire. (Photo: People's Police of Da Nang City Newspaper)
Water is pumped from fresh water streams in the mountains through a long pipeline which serves the entire village. Wind turbine generators supply electricity to the village making living quite comfortable.
According to village patriarch Alang Zeng, the Aur village had a large population in the old days. During the war which lasted for many years, many were evacuated to Nam Dong District in Thua Thien Hue Province. Only a small group of Co Tu ethnic people remained behind and were discovered in 1990 by wild honey hunters.
The government assigned the central province of Quang Nam in 2003 to manage the affairs of Aur village. The village is currently one of the most populous and rich villages in the Tay Giang mountainous district.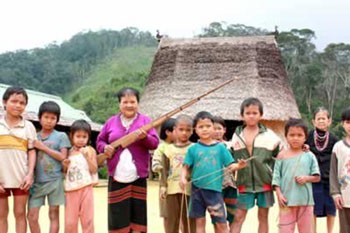 Mother Alang Thao and village's children. (Photo: People's Police of Da Nang City Newspaper)
The village has produced many heroes. Mother Alang Thao, 80, was a brave guerilla fighter in the anti-American resistance war. She is reputed to have killed a fierce tiger which ravaged and terrorized the villagers.
Village patriarch Alang Zeng is also a typical example in Aur. He usually takes part in training courses in law, promotes cultural life and stresses on family planning. His motto is to follow in the footsteps of President Ho Chi Minh and continue to work and campaign to shape the village into a place of comfort knowledge and prosperity.