Handicraft fans can enjoy a traditional craft village space in Thăng Long Imperial Citadel, running from Thursday till Sunday.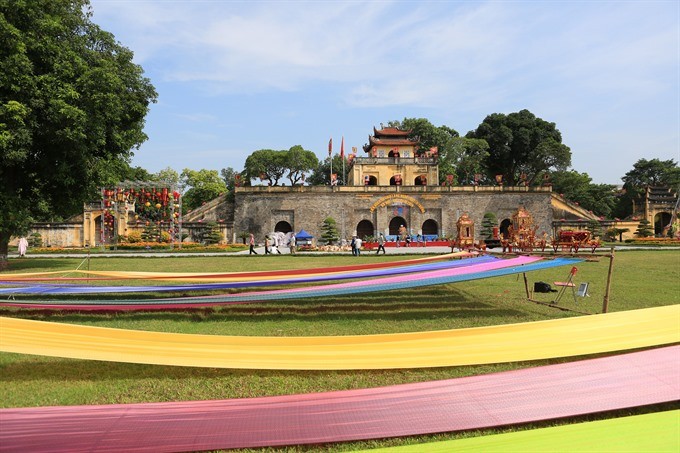 Bright: Dozens of colourful silk threads being sun dried in the campus of Thăng Long Imperial Citadel - VNS Photo Trương Vị
"The 2016 Hà Nội Traditional Craft Village Tourism Festival is among a series of annual events aiming to promote traditional craft villages of Hà Nội and other localities," said Deputy Chairman of Hà Nội's People's Committee, Ngô Văn Quý in his opening remarks.
This is also an opportunity for the craft villages to meet with tourism agencies to develop tourism in these traditional villages, said Quý.
"This year festival had some innovative changes to keep pace with the demand of visitors and tourists. This is the result of co-operation between Hà Nội and related departments in developing tourism," said Quý.
This year's festival features two simulations of Bát Tràng pottery village and Vạn Phúc silk village, an area where artisans of seven types of crafts perform their skills, 250 booths displaying traditional handicrafts and photo exhibitions of Vietnamese tourism and craft villages.
At the silk village simulation space, festival-goers can witness silk-making procedures. Mulberry branches, live silkworms and weaving machinery were brought from a local silk village to the festival. Dozens of soft textured colourful silk threads with unique patterns being sun dried are also on show.
"This is the first time we have attended a festival like this. A craft village has to have a long tradition of making handicrafts to be selected by the department of tourism," said head of Thiệu Đô commune's Farmer Association, Nguyễn Hữu Hùng.
"People in Thiệu Đô commune have been weaving silk for years, it is a pity that the young have lost interest in making silk. Through the festival, I hope the government will pay more attention to traditional craft villages, especially those on the verge of fading," said Hùng.
Bát Tràng pottery village features an actual sized village entrance gate and a pottery road with hundreds of pottery products ranging from tiny bowls to large decorative vases with varied colours and patterns. Visitors can also talk with artisans and make pottery under their guidance.
Among more than 1,000 traditional craft villages over the country, those on show at the festival includ Phú Vinh rattan, Chàng Sơn fan, Bát Tràng pottery, Hạ Thái lacquer, Ngũ Xã bronze, Quất Động handmade embroidery and Định Công silver encrust, Ước Lễ ham and sausage and Vòng green rice flake village.
Among them, Chàng Sơn fan village booth features layers of fans of different sizes, colours and styles arranged in a bamboo setting by Nguyễn Ngọc Tuyền. Though he is an architect, Tuyền and his cousin are active in the family business of fan making.
"Preserving this beautiful tradition is essential. My cousin and I share a passion with fan making. We try to bring new ideas and creativity into this old tradition", said 24-year-old Tuyền.
"I hope the festival will help our traditional villages be better known and tours to the locality will be better promoted," said Tuyền.
A glimpse of wooden paintings encrusted with mussels by hand is also a draw to visitors. The delicate paintings, some of which take years to finish, are on show in the Chuyên Mỹ craft village booth of artisan Nguyễn Văn Lăng. While the other villagers only use mussels for daily items like chopsticks, trays, chairs, tables and simple decorative ornaments, Lăng encrusts mussels on artful wood paintings.
Apart from craft villages, festival goers can also enjoy a variety of dishes like phở, bún, (noodle with beef or chicken), miến (vermicelli), chè (sweet tapioca soup) and buy specialties like cốm (green rice flakes), bánh chưng (rice cake with green bean and pork inside) and giò chả (Vietnamese ham and sausage).
Some tourism agencies attending the festival are also offering 30 per cent discount for tours to traditional craft villages.
The festival opened to the public on Thursday and runs till Sunday at Thăng Long Imperial Citadel, 19C Hoàng Diệu Street, Hà Nội.
On Hà Nội's 62nd Liberation Day on October 10, a photo exhibition dubbed "Hà Nội in me" opens on Saturday at the same place.
The exhibition, themed Hà Nội architecture heritage, hosted by Kinh tế & Đô Thị (Economics and Urban) newspaper and Senior Age Photographer Club aims to affirm the tremendous values of the architectural heritage of Hà Nội and to preserve the diversity of architectural culture.
The exhibition is expected to promote the image of the capital of Hà Nội.
More than 80 photographs classified into "Thăng Long-Hà Nội architecture heritage impression", "Captial's architecture in integration period" and "Heritage preservation work" will be exhibited.
The photos were taken by Senior Age Photographer Club members and journalists of Economics and Urban newspaper.