Nguyen Thanh Huong, a 6 year-old girl from the Vinh Long Province, learnt to read, write and worked out the multiplication tables by herself at the age of three.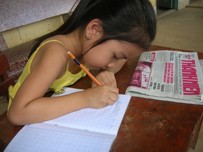 Huong engages in writing information from a newspaper
Ms Nguyen Thi Hong Sa, who runs the infant school where Huong studied, recounted that she was impressed by Huong's ability to read the alphabet fluently after only 2 days of study.
At present, Huong has no difficulty in doing elaborate sums for grade-four level students and finds it easy to hold large numbers in her head; thus, it only took her a couple of minutes to do complicated multiplication sums involving 3 and 4-digit numbers.
A reporter from the Thanh Nien Newspaper put her abilities to the test and reported that the 6-year-old prodigy can easily do difficult mental arithmetic, such as 12,450/15 and 12,094*29.