While diary farmers in many other places are running scared and dumping unwanted (and uncontaminated) milk, Moc Chau District is going in the diametrically opposite direction, unfazed by the recent melamine scandal.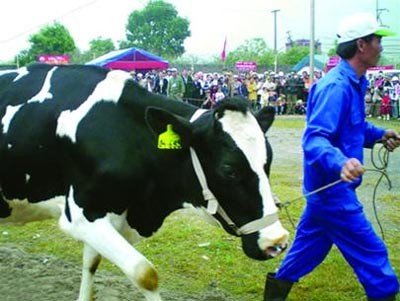 Cow contestants strut their Stuff at 'Beauty' pageant(Photo:TTO)
The mountainous district in the northwestern province of Son La is underlining its strength as a diary industry with a special beauty contest and tour to introduce local milk.

Last Wednesday, Moc Chau hosted a beauty contest where the competitors were all cows who were judged not only on their looks but also their milk yield.
The event also provided farmers the chance to compare notes on breeding.

The winner, which produces 32.5 kilograms of milk per day, is owned by farmer Ha Van Luan, 50, from Thao Nguyen town. Luan got as his prize Delaval milch cow from Sweden.

To fight consumer fears and recoup lost earnings, residents of the district are organizing special tours on their farms where visitors can camp out, try their hand at milking cows and enjoy directly the fruits of their labor - fresh milk for the day.

This could be a long-term business trend for dairy farmers in Moc Chau and they "could make a great deal of money", says Pham Van Nhan, vice director of the Moc Chau Dairy Cow Breeding Company.

Visitors come to Moc Chau for various purposes. Lam Thanh Tran, owner of one of the large farms there with 50 dairy cows, recently entertained a group of young teens from Ha Noi who wished to enjoy sleeping in the cool outdoors in a tent pitched on a grass field, and sample fresh milk after milking the cows themselves.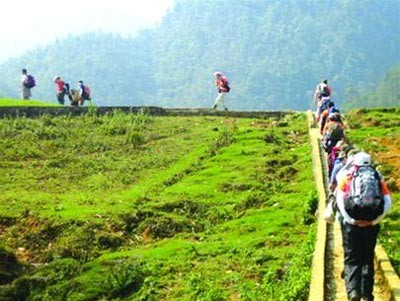 Tourists come to Son La province to enjoy scenery and drink fresh milk(Photo:TTO)
Another farm owner, Pham Van Te, received a family from the northern province of Nam Dinh. Tran Tien Lam, father of two sons, a fourth grader and an eighth grader, wished to live the rural life for some days.
Getting up early in the morning, he and his sons would don a farmer's clothes and aprons, and bucket in hand, head for the stables. At night, they would have their dinner around a roaring camp-fire.

Local dairy farmers are very pleased to offer these new services because they want tourists to enjoy fresh milk and safe dairy and related products.
Pham Van Te has bought more tents and supplies to develop his new business while his counterpart, Lam Thanh Tran, charges just VND200,000 (US$12) for a group of tourists for two-day tour. Despite the low fees, he earned US$120 in just 10 days last month, after receiving eight tourist groups. He says it could be more if can provide better service.

The quality of Moc Chau fresh cow milk is certified and is free from melamine, says Pham Van Nhan. In addition to raising the prices of fresh milk, the company has encouraged farmers to invite more tourists to augment their income.