Ho Chi Minh Museum in HCM City July 9 commemorated its 35th  anniversary of foundation. The museum is home to a collection of 20,000 letters, original documents and objects; books, films, personal belongings and photos as well as memoirs relating to President Ho Chi Minh.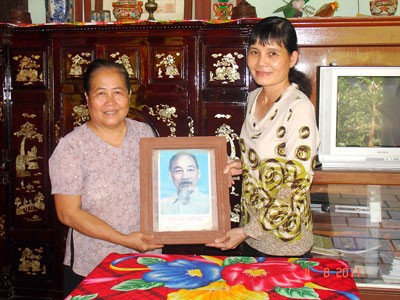 Museum director Nguyen Thi Hoa Xinh (Right) receives items of Mr. Dang from his daughter-in-law (Photo: SGGP)
The collected objects include a letter which the Soldiers' Mother Association in Tan Binh Village of the Mekong delta province of Ca Mau sent to President Ho Chi Min City on November 10, 1054. The letter expressed their determination in the country's revolutionary uprising.
Among the objects is an embroidered picture of President Ho Chi Minh portrait made by revolutionist Pham Van Con from the Mekong delta province of Vinh Long during his time in the Republic of Vietnam's prison in 1959. Visitors also recognize a Hero fountain-pen that President Ho Chi Minh gifted Labor Hero Le Minh Duc in 1958.
 
There are sobering stories behind these souvenirs in the museum. Hero of the People's Armed Forces Colonel Ho Thi Bi presented to the museum her First Class Resistance War Medal which President Ho Chi Minh directly presented to her for her feat of arms in the nation's revolutionary uprising.
 
The heroine passed away in 2011. After that, the museum staff regularly visited her house in Phu Nhuan District for lighting incense. Once the staff saw a certificate of merit signed by President Ho Chi Minh on December 30, 1949 to recognize Ho Thi Bi's feat of arms and persuaded her family to present the certificate to the museum.
 
It is a valuable souvenir of the hero's family;  however, her son Truong Van Da agreed to give the certificate to the museum because he thought that the museum could preserve it better than he did.
After being displaying in the museum, the hero's medal certificate with the President Ho Chi Minh's signature has attracted attention of many people.
 
Another story is about a man who held memorial anniversary annually to commemorate Uncle Ho. Cao Van Dang, born in 1922 in the Mekong delta province of Tra Vinh was crying when he heard about Uncle Ho's death on radio news in October 1969. He then decided to organized mourning anniversary for Uncle Ho per year. After he passed away in 2010, his children and grandchildren have continued to organize the special anniversary as their tradition.
 
While he was alive, he presented thurible made from a mortar shell to the museum and kept other items as heirloom.

With desire to show these valuable items to the public, Nguyen Thi Hoa Xinh, director of the museum, went as far as to his house to convince his relatives to grant the left items to the museum.

I told the family that foreign visitors were moved at the story of death anniversary of President Ho Chi Minh conducted by Mr. Dang, hence the museum expected the family to present the remaining items to the museum, Ms. Xinh said.

Maybe my heartfelt sentiment helped persuading his family of giving all items to the museum, Ms. Xinh added.