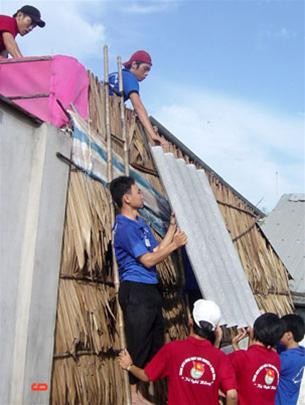 Volunteer students rebuild houses destroyed by typhhon Durian in Thanh An (Photo: Tuoi Tre)
Just 24 hours after typhoon Durian decimated Ho Chi Minh City's Can Gio District, HCMC's Union of Youth sent 156 volunteers to the stricken region to assist local residents in dealing with the aftermath.
Arriving at the District's island Commune of Thanh An after a 4 hour bus trip, the volunteers quickly began surveying the damage and preparing a plan of action. Most of the volunteers are students, who are often looked upon as being only good at eating and studying, but they surprised the people of Can Gio with their speed and ability.
When they were put to the test of rebuilding a house, they turned out to be no less capable than professional carpenters. When there was no more steel for roofs, they didn't sit around and wait for more to arrive but transported more themselves from the mainland. 20 houses destroyed by the storm were rebuilt on the first day after their arrival.
In Tien Giang Province, thousands of young volunteers and students signed-up to assist in stricken areas. The Secretary of Tien Giang's Union of Youth, Tran Kim Trat, said that the need for volunteers in the region was especially high after the typhoon hit, because local inhabitants were too preoccupied with their own situations to help their neighbors.
Once the weekend had passed, the students had to return to their studies but they promised to come back the following weekend to support efforts at restoring the local power grid.
The story is reminiscent of the annual "Green Summer" campaign, when many young volunteers travel to remote regions of the nation to lend a helping hand. In both cases though, the most inspiring thing about it is the community consciousness sprouting in these young people's minds.
The Green Summer campaign ends with the return of the volunteers to their studies but that is precisely when the storm season begins, bringing with it heavy damage along the nation's coastline.
Volunteer movements like the one responding to typhoon Durian are natural and spontaneous. The "Task Forces" of the Communist Union of Youth have met the demands of many situations like this in the past but many hands are required when disastrous situations strike. This only points to the need for frequent volunteer campaigns to enlist the young in the storm season.