Tony Ruttimann from Switzerland designed and sponsored all 48 suspension bridges in Ben Tre Province in the Mekong delta. He received the Third Labor Medal in 2008.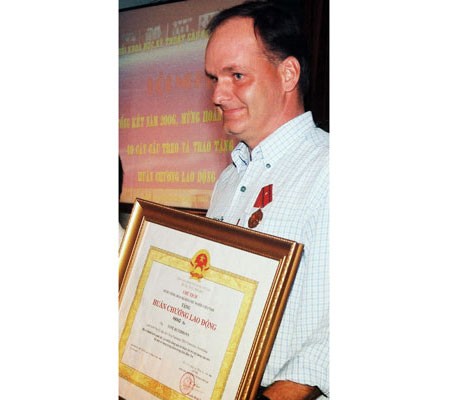 Tony Ruttimann awarded third Labor Medal in 2008 (Photo: SGGP)
Ben Tre is considered to be one of leading provinces in the Mekong Delta region to eliminate cau khi (monkey bridges) and build the most suspension bridges, said Trinh Van Y, chairman of Ben Tre Province's Bridge and Road Science and Technology Association.
After the collapse of the suspension bridge in Cha Va Village in the northern province of Lai Chau, the quality of suspension bridges raised concerns.
Residents praise Ruttimann whenever they cross the suspension bridges, said Dr. Le Khanh in Cam Son Commune when crossing a 40-meter suspension bridge over Binh Phu River.
The association was set up in 2003 when Ruttimann designed three suspension bridges in Dong Thap Province, said Mr. Y. He invited the engineer to Ben Tre Province to solve commuting issues in the intricate canal systems.
The province was much in poverty therefore Ruttimann decided to collaborate with charities in Vietnam and Switzerland to raise funds.
Local citizens and the government constructed pillars as foundations for the bridges. Building a suspension bridge takes only one month. Ruttiman designs the bridges 40-80 meters long, 1.4 – 1.6 meters wide as he just wants to allow only pedestrians and two-wheeled vehicles travelling on.
The Bridge and Road Science and Technology Association appealed to social contribution to build over 1,550 cement bridges in rural countryside districts and over 200 kilometer roads worth over VND250 billion (US$11,860,000) during a 10-year operation.
The association also helped build over 200 bridges in other provinces.