The villagers call Ke Xar a "treasure" and they are not exaggerating.
The 91 year old resident of A Ngo Commune in Thua Thien Hue Province's A Luoi District is no ordinary treasure. He is a rare national treasure with skills no one else in the country has.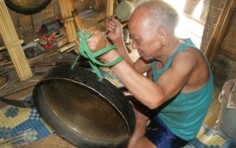 Ke Xar repairs gong. He is only person who can make and repair traditional musical instruments of five ethnic minority groups. (Photo: Lao Dong)
The ethnic Ta Oi is the only person who can make and repair traditional musical instruments of five ethnic minority groups.
He started to learn how to make a musical instrument from his father when he was ten years old. Soon, he could make and play several kinds of musical instrument including the K're, K'rach and K'zoock'zon pan-flutes.
Ke Xar joined army at 20, and he always brought joy to his comrades-in-arms with his musical talent and special instruments.
After 1975, he returned home to become a staff of the cultural department in A Ngo commune and organized all music performances that took place there.
For Ke Xar, everything has its soul, even materials like bamboo or bronze. "If your emotions are in tune with them, they will help you make a good instrument," he said.
He won the silver medal in ethnic minority Gong Festival in Gia Lai in 1993.
After retiring, he continued to participate in all music festivals of the commune. In the beginning of 2009, he was recognized by the Vietnam National Music Institute for his achievements in preserving traditional folk art.
Until now, he remains the only person who can make and repair more than 20 different kinds of music instruments belonging to the five ethnic minority groups of Ta Oi, Pa Ko, Cp Tu, Pa Hy and Van Kieu.
He said he got his wife through his ability to play many instruments. Many girls in the commune admired him then, he recalled.
At 91, Ke Xar still has a good healthy and a sound mind.
His small house is where he makes the musical instruments. There are many old and precious instruments hanging around the house. He often takes them out for performing during village festivals. He does not sell them, despite the fact that many traders have come to him and offered high prices.
Villagers say Ke Xar still remembers many ancient stories and all customs of ethnic minority groups. So he is not only a repository of folk music, but of folk traditions as a whole.
Ke Xar is worried about his health. He said he can not live long so he is afraid no one succeeds him in making and repairing music instruments.
Many researchers have come to him to find old lyrics and tunes, but he has not had a student to pass on his mantle. He wishes God would give him more strength so that he can make more cymbals, pan-flutes and teach the young generation all he knows.

Recently, the Vietnam National Music Institute asked Ke Xar to open a music class at his house with the aim of teaching 15 young people in A Luoi District how to make music instruments of the Ta Oi and Pa Ko minorities.
However, as of now, there are only two people how have continued studying, because it is too difficult to learn what Ke Xar has to teach.