For 20 years, Tran Van Luu of Thanh Hoa province has been spending his own money to operate a coastal radio so that fishermen can hear the latest weather reports and other information of importance. In the eyes of those at sea, the 42-year-old Luu is a talisman.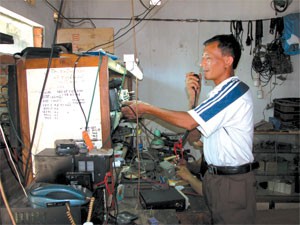 Tran Van Luu talks on his handie-talkie with boat owners in his broadcasting station 

His voice is heard regularly by the offshore fishermen. Every day he contacts the other radio stations along the coast from Mong Cai in the north to Kien Giang in the south to get the weather forecasts and pass them on to the fishing boats free of charge.

In his messy low house in Thang Loc hamlet, devices of all kinds are scattered around as Luu chats with Hon Gai Radio Station farther north. He needs to know the weather in the Gulf of Tonkin as 40 fishing boats from Ngu Loc commune are heading out to sea, and looks pleased when the forecast is for fine conditions.

Luu was born into a medical family and his father was also a fisherman who cured his shipmates when they fell ill.

Many people reckon he is crazy doing his radio work for no money but he has his reasons.
"Back in June, 1989, a storm hit dozens of boats from Ngu Loc. Many fishermen lost their lives. Everyone in my family was down at the beach waiting in trepidation all day for my father to return. Eventually, when it got dark, some boats returned. I rushed to my exhausted father. His voice broke as he told me: 'Many villagers are dead or injured, son. All because we didn't know about the storm.'"
Prompted by the tragedy, Luu looked everywhere for a decent low-frequency transceiver at a decent price and finally found one. After much time and money, his home became a broadcasting station.
He has just spent VND30 million on modern equipment and renewed his radio license. With the new system, fishing boats operating around the islands of Bach Long Vy or Cat Ba can receive his transmissions.
On a board on the wall he has scrawled "No contact for selfish ends or illegal information". That's one of his abiding principles. Many times boat owners call him just to ask for trade tidbits but his response is always the same. "I do safety and rescue work only."
His 37-year-old wife shares the burden, and sometimes sits up all night long to man the radio in times of stormy weather. "My husband has done this job for 20 years; he loves it even more than me. He will never accept payment for it", she says with a smile.

Luu has a notebook in which he jots down every rescue in which he has participated and the numerous messages of gratitude from the boat owners.
Many fishermen have collected money to help him, but he refuses to accept any of it. He tells them: "I don't need the money. I just want you all to be safe and sound, you and your property".
There is a downside to his commitment in that his health has been badly affected by electromagnetic radiation; he has even been hospitalized for a nervous disorder.

Yet what worries him most is the short validity of his ham radio license, as getting a renewal takes rather a long time.