The regular get-togethers of the Talking Green club at the headquarters of the Ha Noi-based World Conservation Union (IUCN) are always packed.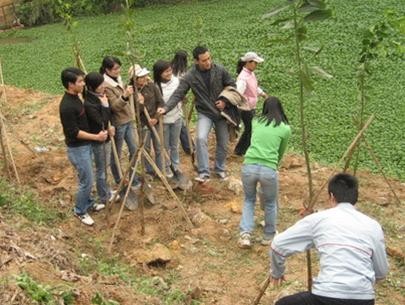 Talking Green members plant trees while studying the process of waste treatment at a rubbish dump in Ha Noi (Photo: TTO)
Today they are talking about environmental police, a newly established force in Viet Nam, and their role.  
Most of Talking Green's members are lecturers and students in Ha Noi who study the environment. They meet every week to talk about the greenhouse effect, acid rain, biological diversity, Ha Noi's lakes and other such issues, always in English.  
Every month, they invite environmental experts from local universities, the IUCN and international organizations to speak at the club. 
"The club is not only for learning English but also raising public concern for the environment. We have worked with several organizations to carry out voluntary projects in this field," Talking Green's vice president told us. 
Their first endeavor was an IUCN wetland project in the northern provinces of Nam Dinh, Ninh Binh and Hai Phong. Club members went to the wetlands to talk with the local inhabitants about the value and importance of wetlands and how to exploit them in a sustainable way. 
Talking Green is implementing the Japan International Cooperation Agency's 3R (Reduce-Reuse-Recycle) project in Viet Nam, and will work with the Swedish International Development Cooperation Agency and similar organizations. 
"Our English has greatly improved since we started going to the club, and we have also had the opportunity to take part in voluntary projects," exclaimed two Chinese students from the Vietnamese Faculty of the Ha Noi University of Social Sciences and Humanities.  
Nowadays the club is attracting students from other majors, and even high school kids are starting to turn up.  
Talking Green's president, Nguyen Thanh Tung, says the club's ambition is to establish a non-governmental environmental organization in Viet Nam.