In Sai Gon the pace just gets faster and faster. People snatch a packed lunch in the office, find a space to lie down and take a short siesta to recover for the afternoon grind, then get straight back to work.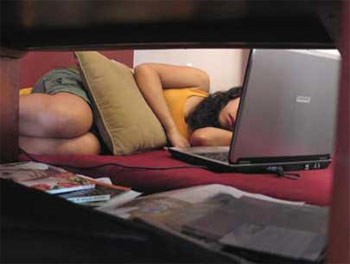 Taking a nap before getting back to work at the WiFi coffee shop on Pham Ngoc Thach Street in District 1
But the office is not a place for sleep, not really, which is why a new service has come into being: snooze palaces!

Their clients range from office workers to businessmen and stock investors, and include a fair chunk of foreigners.

At one place on Pham Ngoc Thach Street, there is an air-conditioned room with lots of sofas and soft pillows. At lunch time, this is where office types come to lie down and fall asleep to the sound of easy music.

In another room, one with pillows and cushions on the floor, white-collar workers lean back against the wall, stretch their legs out and drop off.

At a coffee shop on the corner of Le Thanh Ton and Nam Ky Khoi Nghia streets, they drink or eat lunch and then sleep where they've just been sitting, and there is also a wooden bed available for true luxury.

"We often come here to have lunch and a nap," said an accountant who is a regular at the coffee shop. "The prices are rather steep - a glass of coffee costs 30,000 dong and a meal from 70,000 to 90,000 dong - but our reward is that we can have a good snooze and regain our strength for the afternoon. So the prices are acceptable."
A similar sleeping salon on Le Loi Street charges 20,000 dong for an hour's sleep. It's always full of napping business people at lunchtime, many of them foreigners, so making a reservation is a must.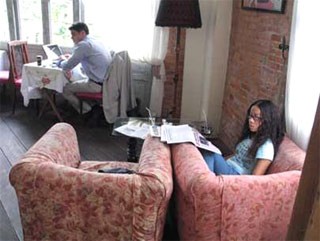 Sleeping on a chair at a coffee shop – the pressures of work make many young office workers seek out a place for a nap
Another popular place for a snooze is on the corner of Vo Van Tan and Nguyen Thuong Hien streets. From the outside it looks like an ordinary office but inside there are massage tables and beautiful girls whose delicate hands usher in sleep. They also wash hair.

This rather upmarket slumber place is pricy, usually 70,000 or 80,000 dong a pop. Some women seem to like it although they are too shy to go alone so they usually have to get coworkers or friends to come along, even husbands sometimes.

On Bui Thi Xuan Street, there are some palaces of snooze where they deploy massage chairs to encourage sleep. You simply sit in a comfy chair and let the machine do all the work, massaging the body from the head down to the lower back.

After a nap, one client sat up and said cheerfully, "For a businessman like me, a siesta is very important. It can help increase the ability to work through a stressful afternoon and evening. By being healthy, we can make more money. It would be to our detriment without a service like this for people who are working in a fast-paced environment like we have here in Sai Gon."