Pham Thi Kim Huong, 33, CEO of Industrial Sanitation &Service Co.Ltd is a successful woman of the first generation to benefit fully since 1986.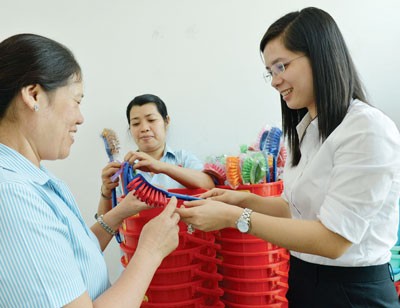 Huong talks to her laborers about their job (Photo: SGGP)
Huong currently has 400 clients with 70 percent market shares and provides work for 3,400 laborers. Her service & industrial sanitation businesses started eight years ago with VND 11 million.
She initially didn't enter university because her father experienced a serious traffic accident.
"In order to save my father, we owed a huge sum of money from many relatives", said Huong.
After the incident, she entered Accounting and Finance College and graduated after two years. She worked at various companies for a couple years and sent the salary to her home to care for her father.
For additional money, she worked at a cleaning service business and eventually quit her job to start her own. She only had three employees starting out cleaning banks. She eventually acquired additional contracts and her business grew into the mecca it is today.
She continues to study at HCMC Economic University of Business Management Department.
"It is not hard to run a large company. The hardest part is how to develop in the competition environment and to have good employees for long contract", Huong said.
Her slogan is to be a compassionate businesswoman. Her employees stay with her for a long time even though they are able to earn more money with other employers. She cleaned bathrooms with her employees when starting out.
"My mother's life is very difficult, she works many jobs to feed six children. She doesn't refuse any jobs to earn money. I learned from my mother's life therefore I always share the difficulties to my employees," said Huong.