Traditional form of dressing is becoming less common among Vietnamese ethnic groups as a result of modernization and urbanization, according to a two year study conducted by the Museum of Cultures of Vietnamese Ethnic Groups.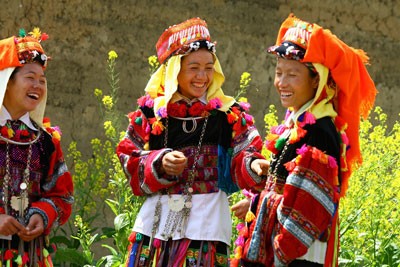 Lo Lo ethnic girls in their traditional attire (Photo: SGGP)
As many as 40 out of 54 ethnic groups in Vietnam were no longer wearing their traditional clothing because of influence of modern trends and cross-cultural communication that has changed indigenous aesthetic tastes.
Dr. Doan Thi Tinh said after her trip to the mountainous northwestern and northeast provinces that she realized only elderly ethnic people in remote districts still wear traditional costumes that are now faded, worn-out and handed down from generation to generation; while most of the other ethnic people wear costumes made from cheap Chinese fabrics not traditional fabrics.
Moreover, ethnic people now mix traditional clothing with T-shirts, jackets, leather shoes or sport shoes, hence it becomes difficult to identify which ethnic minority group they belong to.
Vi Hong Nhan, Head of the Ethnic Cultural Department under the Ministry of Culture and Information, expressed his unhappiness that traditional attire is losing under modernization.
According to him, one of the reasons is that ethnic people don't feel proud of their traditional clothes and they just 'show off' their traditional costumes on festive occasions only. Young people are deeply influenced by other cultures and prefer wearing modern clothing rather than traditional attire.
Another reason is that ethnic people are choosing to wear cheap ready-to-wear clothing instead of spending months weaving traditional fabrics to make into costumes.
Besides, traditional clothes are rather heavy and not suitable for modern day living.
Experts believe the government should restore weaving and dyeing in handicraft villages as well as supply material and honor skilled artisans to encourage ethnic groups to going back to wearing their own traditional clothes to preserve ancient culture.
Dr. Doan Thi Tinh said it is important to retain ethnic people's aesthetic taste and their pride in traditional costumes to pass on to younger generations.