Nguyen The Vinh overcame his disability to become a renowned guitarist and harmonicist and follow his cherished dream to help the disadvantaged.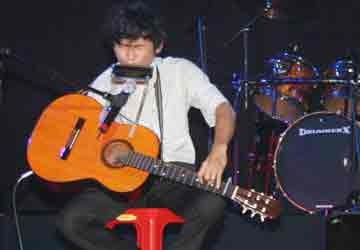 The Vinh is both playing guitar nd harmonica with one hand
Guitarist Nguyen The Vinh's life
Nguyen The Vinh recalls his painful past. When he was only 4 years old, his father died in a bomb attack and his mother and brother too passed away three years later. He spent his childhood with his grandmother.
At the age of eight he broke his right arm while tending to cows. Unable to receive proper treatment in his village, he underwent a failed surgery and his right arm had to be amputated a year later. Nevertheless, he continued to tend to his cows for many years.
He recollects an afternoon when he thought it was going to rain so he tried to pull the cows into the cowshed but in vain, as he was unable to hold the cows with one hand. At that moment he experienced a feeling of disability, helplessness and loneliness.
He decided to make friends with other kids in the village. He began by reading fairy stories to them so that they could be amused and keep him company while he tended to his cows. At that time he had no sense of music but slowly the lonesome atmosphere brought out a deep rooted and latent talent and he began to hum music pieces by well-known composer Trinh Cong Son.
Trinh's music is melancholy and serene in nature and Vinh found a solace in that music which became a source of happiness for the disabled guitarist. Gradually Vinh grew to have a better and deeper understanding of Trinh's music.
While he was still at senior school in the central province of Binh Thuan, Vinh learned to give a haircut, repair bicycles and other odd jobs in an effort to integrate into society or help his friends in need. At that time he only thought to help others and to make friends. His kindness brought many friends close to him.

He continued to help others even when he entered the Economic University in Ho Chi Minh City. Helping others gave him peace on mind.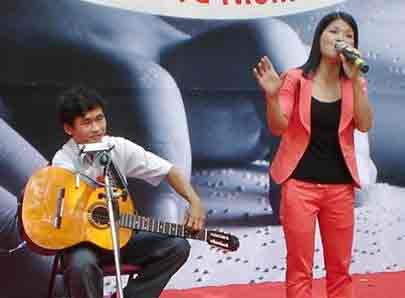 The Vinh and Thuy TIen perform a song of music composer Trinh Cong Son
He once was very homesick and missed his hometown Binh Thuan but he had no money to go home. Despite this, he risked taking the train home.
Fortunately for him the ticket collector sympathized with him especially when he realized that this poor needy boy was truly homesick. Such kind hearted people left him with a sense for greater need to help disadvantaged and disabled people.
As a sophomore he bought a guitar with his first wage. He felt drawn to Trinh's music and found it a way to express his own pain. He identified a sorrow in Trinh's music to fill the void he felt following more deaths of relatives and neighbors. Trinh's music became his salvation and a means to express himself to the world around him.
Vinh rose to fame in 2004 after his performances in Hoi Ngo (Meeting) Inn. As a result he was invited to play Trinh's music in other restaurants and bars. His income improved substantially by then and he thought of giving free performances for disadvantaged and disabled people, students and blue-collar workers.
He set up a musical band along with two disabled friends – Thuy Tien and Ha Chuong called Mon qua cua song (Gifts of tide) in order to have  charitable performances for needy people. He also gave music lessons to the disabled.
The Vinh plans to write music pieces (with video clips) for one-handed guitarists like him. He established the Huong Duong (Sunflower) orphanage and a center for the disabled in Ben Cat district in the southern province of Binh Duong. His dream is always to help the disabled and many nights he drives the long 60 kilometers from Ho Chi Minh City to Binh Duong to deliver music lessons the next morning.