In 2004, Ho Chi Minh City saw the beginnings of a new cultural highlight, book cafés. Despite intense competition between cafes and other activities, such as movies, games and live music, they have survived. Developed and modified overtime, they reflect customers' different tastes.

From book cafés…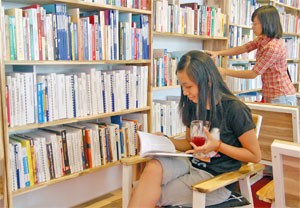 A drink goes with reading at Hub café in Tan Binh District, HCM City (Photo: SGGP)
Seven years ago, Ciao, the city's first book café and established at 40 Ngo Duc Ke Street, District 1, was a combined venture between the café's owner and the Vietnamese publishing house Fahasa. Book lovers could browse the free library as they supped in quiet.

Ciao Café continued alone, with little demand outside the world of the latte literati. This changed in 2006, when another publisher, Phoung Nam Cultural, began developing book cafes.

In one scheme, the entire terrace of the company's three story bookstore at 105 Tran Hung Dao B, Ward 6, District 5, was transformed into an elegant and chic café.

However, there are not many bookcases, as the café was not designed to create a "room to read" for customers, but just provide them with a comfortable place where they could refresh after the shopping and skim through books they had just bought.

These kinds of book cafés have been welcomed by many people who come to the bookstore, not to buy books but to enjoy a drink in a relaxed setting, to conduct business or have secluded dates.

The success of the café prompted three more in the city, including Bookcafé PNC Phu My Hung, Nguyen Oanh and Hung Vuong. Others have opened in cities and provinces and cities nationwide.

…to library cafés

Last week, another book café opened at 18A Cong Hoa Street, Tan Binh District. HUB café aims to provide a bookish atmosphere for customers to broaden their sights.

Just entering the coffee shop, customers will be dazzled by thousands of books standing on bookshelves.

According to Le Truong Giang, general director of Tri Thuc (Knowledge) Co., owner of the café, it has more than 10,000 book titles available. The number of books at the coffee shop is comparable to a medium sized bookstore.

Customers are encouraged to bring their laptops, as aside from printed books, more than 100,000 free e-book titles are ready for customers to download.

Mr. Giang said, "Unlike other book cafés, seeing books as byproducts that are just used for spicing up their services, Hub café is designed as library."

Essentially, it is a library with a coffee shop, not a coffee shop with a library, he added.

To many city dwellers, the present of Hub will mark a new trend of book cafés in the city, which some hope will help bring a reading culture to the city's ever-evolving society.