"Whenever our products are selected as gifts to visiting foreign leaders, I feel proud to have contributed to promoting Vietnam's images to the world," said Ly Ngoc Minh, one of the leading porcelain makers in Vietnam.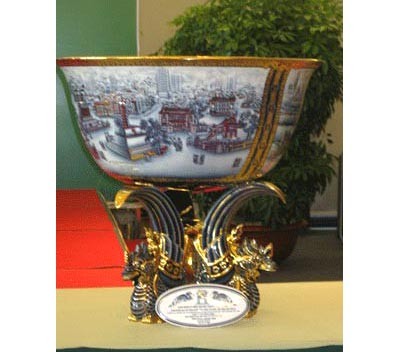 Thang Long pearl bowl
Mr. Minh, the founder of Binh Duong province-based porcelain producer Minh Long 1 Co. Ltd., is the creator of unique porcelain items used as souvenirs to foreign heads of states who came to Vietnam in the past several years.

In late 2006, a porcelain cup produced by Minh Long I was presented to the leaders of 21 country members of APEC attending the APEC Summit in Hanoi.

Mr. Minh also the author of a porcelain vase named "Phong lan" ("Orchid") that was presented to Pope Benedict XVI by President Nguyen Minh Triet during his visit to Vatican in December 2009. All of the patterned details on the vase were created manually.

"I began making special porcelain gifts in 1998, when an ASEAN high-ranking conference held in Hanoi," Mr. Minh said. The souvenir for each foreign head of states at the event was a porcelain tea set named "Hồn Việt" (Vietnamese soul), which was designed and decorated in the style of Vietnamese folk culture.

Before the event took place, the Vietnamese Foreign Ministry looked for a kind of unique fine artwork than can be used as a gift for the guests. Without any hesitation, Mr. Minh submitted his tea set together with a description thereof to the ministry and his artwork was approved.

In October 2010, "Thang Long pearl bowl," a unique porcelain product by Mr. Minh, was also selected by the ministry as a gift to the participants of the 17th ASEAN Summit in Hanoi. This bowl was a miniature version of the same that was created to welcome the 1000th anniversary of Thang Long-Hanoi, which took place the same month.

The bowl has a three-leg base with each leg intricately designed in a dragon shape. The surface of the bowl is decorated with stylized panoramas of Hanoi's past and present.

It took five years for Mr. Minh and his colleagues to complete the "Thang Long pearl bowl." During that time, they faced and overcome many challenges in design, decoration and technique. They made and eliminated a great deal of samples before they could be able to create a perfect artwork.

"We don't remember how many bowls were thrown away during those five years. There were times when we thought of declaring it impossible but we got through eventually," he said.

In order to ensure premium quality of the bowl, Mr. Minh baked it five times at high temperatures up to 1380 degree Celsius (2516 degree Fahrenheit). He also plated the base of the bowl with 24-carat gold to make it more valuable and beautiful. It took him one month to complete the gold plating.

"When completing this product after years of hard work, we felt very happy to find it was totally perfect," he said.