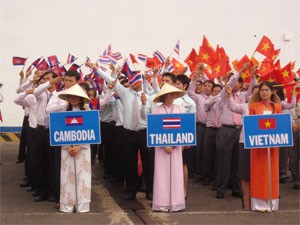 Flags and flowers welcome international delegations of the SSEAYP to Viet Nam in 2005 (Photo: V.H)
Viet Nam's National Committee on Youth started a training course Tuesday for their 29 representatives who have been invited to participate in the activities aboard the Ship for Southeast Asian Youth Program (SSEAYP) 2006. This year's SSEAYP discussion program has been themed "Youth Participation in Social Activities".
According to the International Partnerships' website, SSEAYP is annually sponsored by the different national members of ASEAN and the Japanese government.
Aboard the ship, 300 youths from the ten ASEAN countries are able to enjoy the unique opportunity to interact with such a diverse group of young individuals for the 50 days aboard the Nippon Maru.
January 1974 marked the beginning of this amazing opportunity upon the issuance of joint statements between Japan and the five involved ASEAN countries (Indonesia, Malaysia, the Philippines, Singapore and Thailand).
A decade later, in 1985, Brunei Darussalam joined the group. Vietnam's 1996 entrance was shortly followed by Laos and Myanmar in 1998. Cambodia has been the last to join in 2000.
The SSEAYP 2006 will depart from the Yokohama port of Japan on October 23 and make its first stopover in Singapore where the 300 delegates will embark on the journey.
During the scheduled program, the ship will visit four countries; namely Indonesia, Malaysia, Brunei, and the Philippines. Countries are visited on a biannual basis.
The ship's return to Japan on December 12 will mark the end of these delegates once-in-a-lifetime opportunity. Aboard the SSEAYP, the selected participants will be able to enhance the cooperative spirit within the region while strengthening the fraternity and mutual understanding between the youth of Viet Nam and other nations.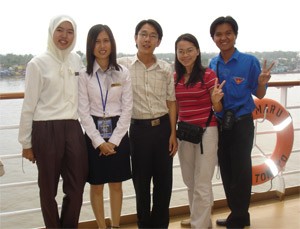 Vietnamese and foreign youths pose for a photo on board the Nippon Maru in 2005 (Photo:V.H)
The program's youth delegation will be divided into eight groups with different focuses like environment, information, cultural exchange, international relations, traditional culture education, volunteer work, and youth development.

The participants will have no time for boredom as many activities have been organized for their entertainment and education.

Upon each landing, the delegates will interact with the local youths, place courtesy calls to dignitaries, make institutional visits, as well as partake in community service and a home stay experience.