The French School of Asian Studies (Ecole Francais d'Extreme Orient - EFEO) and the Museum of Fine Arts of HCM City are jointly holding the exhibition Viet Nam Through a Lens consisting of 100 photographs selected from a collection of more than 50,000 old photos of the Vietnamese collection at EFEO.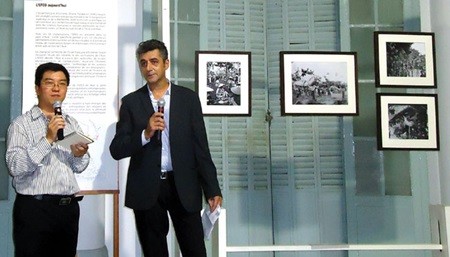 Special selection: Olivier Tessier (right), director of the Ecole Francais d'Extreme Orient – EFEO, in HCM City, at the opening of an exhibition of 100 photographs chosen from over 50,000. — VNS Photo SunnyRose
The exhibition, produced by Paris Museum, was shown at the Cernuschi Museum in Paris from March 14-June 29 last year, before moving to Ha Noi at the French Institute (L'Espace) and the National Museum of History from December to March this year.
From 1933 until 1959, the EFEO has enlisted the services of a professional photographer, Jean Manikus, assisted by Nguyen Huu Tho. Together, they collected 50,000 pictures. When the EFEO left its headquarters in Ha Noi, a copy of this legacy was sent to Paris where the new headquarters was established in 1961. More than 200,000 photos are stored there.
Founded in 1900 in Sai Gon and then moved to Ha Noi in 1902, the French School of Asian Studies is a public institution handling scientific and cultural research on Asian civilisations, which aims to support high-level academic research in the social sciences and humanities.
Through its 17 centres in Asia, including India, Japan, Indonesia, Cambodia and Viet Nam, important field research is conducted in archeology, philology, ethnography, history, linguistics and heritage conservation.
Wandering through the exhibition, the viewers will be able to discover Viet Nam as it revealed through the eyes of historians and scientists during the first half of the 20th century.
The exhibition will be held until June 28 at the Museum of Fine Arts, 97A, Pho Duc Chinh Street, District 1, HCM City.
For more information, contact Pascal Bourdeaux Head of the EFEO in HCM City pascal.bourdeaux@efeo.net.