Surrounded by a crowd in a corner of the Centre of the Old Quarter's Culture Exchange, artisan Nguyen Dang Giap spreads colours carefully on different woodblocks to create a Dong Ho folk painting.
Giap is the only member of his family that pursues this traditional job, which originates from the Dong Ho Village in Thuan Thanh District in Bac Ninh Province, about 30km east of Ha Noi.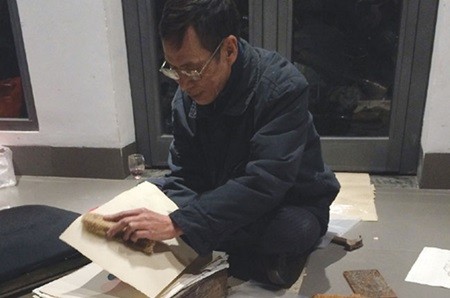 Master at work: Artisan Nguyen Dang Giap demonstrates how to create Dong Ho folk painting at the Centre of the Old Quarter's Culture Exchange. — VNS Photo Thuy Hang
While explaining to curious viewers about the painting's natural materials, the old artist focuses on each step, which he has known by heart since he was young.
The printing paper used for the paintings is made from the bark of the do (poonah) tree. It is soaked in water for months and then mixed with seashell powder (diep) and glutinous rice.
Because of the texture of seashells and glutinous rice, the paper possesses an exotic and sparkling hard background and is able to retain colours used in the painting.
Giap's demonstration is part of the on-going folk paintings exhibition Net Xuan (Spring's Feature), organised by the Centre of the Old Quarter's Culture Exchange and the Ha Noi Museum of Terracotta and Porcelain.
Opened to public since Friday night, the exhibition presents paintings and wood-blocks from five famous lines of folk painting in Viet Nam.
Alongside Dong Ho paintings, the exhibition also displays a collection of Hang Trong paintings which have been linked to the rituals of ancestor worship for hundreds of years.
The paintings generally have two main themes: worship and Tet (Lunar New Year festival), which focus on people and subjects.
Common themes include kings, lords, Buddha and saints, children and three gods symbolising longevity, prosperity and happiness.
The exhibition also features colourful Southern glass paintings, which came to Viet Nam in the early of the 20th century when Chinese immigrants opened glass shops in Cho Lon and Sai Gon.
In the 1920s, the art form developed rapidly along with other crafts, spreading throughout six southern provinces. It has developed mass products with various themes such as God, Buddha worship, celebration and interior decorative painting. Some glass paintings were drawn with multi-coloured paint, or with mother of pearl, or combined with coating mercury on the glass surface.
The exhibition also introduced to visitors Sinh Village paintings, which originates in Phu Vang District in Hue in about the 15th century, and Kim Hoang paintings – an art form combines both Dong Ho and Hang Trong style and originates from Ha Noi's Hoai Duc suburban area in middle of the 18th century.
On another wall in the centre of the Old Quarter, several woodblock paintings, accompanied by introductions on painting techniques, have caught the attention of many visitors.
All the paintings and woodblocks on display belong to folk paintings collector Nguyen Thi Kim Hoa, who aims to preserve "an important part of Vietnamese traditional fine arts and culture".
"As I continue to spend more time to collect the paintings, I realise that most of these folk paintings lines have been fading seriously as the number of artisan and craftsmen drops," said Hoa, who is also director of the Ha Noi Museum of Terracotta and Porcelain.
Hoa expects the exhibition to offer foreign tourists a glimpse of Vietnamese culture.
The free entry exhibition runs until February 22 at 50 Dao Duy Tu Street.