For the last 30 years a philanthropic foreign woman has been tirelessly working for the betterment of the very poor and needy people all along Asia and Africa.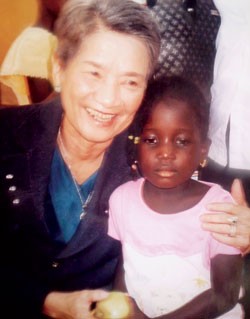 For the unfortunate orphan children in Mali, Mrs. Phuong comes as a mother from a far away land bringing love and joy.
What could have brought this overseas Vietnamese, born in Laos and brought up in Thailand to have such a deep attachment for Vietnam? What could possibly be the reason for a beautiful lady to leave her life of luxury for a life full of discomfort and hardships? What motivates this 70 year-old lady to travel great distances to help her fellow humans? Mrs. Nguyen Thi Phuong answers these questions by simply saying that it is all about compassion.
This is a story of love between Nguyen Cong Nghe, a former soldier and one considered to be the founder of the postal service during the revolution and Nguyen Thi Phuong, a tailoress during the wartime period in Vietnam. The union was of pure love and a deep understanding between the two. Their friends believe they came together despite all odds, overcoming the dangers and hardships of war to remain together to this day. Time has only made their love for each other stronger and compassion towards the poor and unfortunate people has been a binding factor in their lives.
Mrs. Phuong started her charity work in 1982, when she felt a deep rooted desire to help other people. She believes that helping others not only eases others pain but brings incredible joy and satisfaction to her. Her philanthropic zeal is infectious and many of her relatives share her views, though her husband initially felt depressed at her being away from home for long periods of time.
He worries for her health and at times feels the irritation as neither he nor her children see her often enough. However he understands that her charitable work is paramount for her and that staying at home would mean boredom for her, so now he helps her whenever his health permits.
Mrs. Phuong has been able to raise billions of Vietnamese dong which she uses not just for the needy people in Vietnam but also in foreign countries. She is unaware of the fact that she is the first Vietnamese to help poor people in foreign lands.
She does not mind the great lengths she goes through to make a relief trip for unemployed Vietnamese export workers in the Czech Republic or to visit orphans in Mali or to oversee a project for growing rice in Africa. She thinks it is meaningless to discriminate nations when helping people. She would go any where to help people. She also believes that her work would not have been possible without the support and help from other people.
For the unfortunate orphan children in Mali, Mrs. Phuong comes as a mother from a far away land bringing love and joy. The SOS Children's Village Sanankoroba recognizes her as the real mother of the children in their village. L'inspecteur newspaper referred to her as a woman akin to the renowned nun Mother Teresa.
Mrs. Phuong is currently working on a project to grow rice for making Vietnamese rice paper in Mali. The project aims to provide more jobs to local residents. Her simple philosophy in life is to empower people to be self sufficient. She believes, 'It is better to teach people how to fish than give them fish'.